Social anxiety can cast a persistent shadow over the simplest interactions, leaving you feeling isolated and overwhelmed. The fear of judgment, rejection, or embarrassment can make everyday social situations, like meeting new people, attending social gatherings, or even speaking up in a group, feel like daunting tasks. If you're grappling with social anxiety, know that you are not alone in this struggle. In fact, social anxiety disorder affects millions of people worldwide, but it is also a condition that can be managed and overcome with the right approach and support.
Ways to Start Managing Social Anxiety
As you embark on a journey to navigate the complexities of social anxiety, it's essential to remember that there is no one-size-fits-all solution. Every individual's experience with social anxiety is unique, and what works for one person may not work for another. However, in this article, we will explore twelve tips that aim to offer a well-rounded approach to managing social anxiety. These tips range from comforting steps within your comfort zone to pushing the boundaries a bit, empowering you to embrace growth both online and offline.
1.   The Avatar Challenge
In the digital realm, you have the power to create a supportive social haven. Unleash your alter ego through avatars in online games or forums. Experimenting with different personalities can be liberating and help you express yourself more authentically offline. Embrace this playful journey of self-discovery as you build the confidence to explore new aspects of your identity and interact with others more comfortably.
2.   Virtual Exposure Adventures
Virtual reality (VR) exposure adventures offer a safe environment to confront anxiety triggers. Whether it's conquering a fear of heights on a VR roller coaster or practicing public speaking in a simulated environment, these experiences can desensitize anxiety triggers gradually. With each successful experience in the virtual world, you'll gain the confidence to face real-life challenges more effectively.
3.   Embrace In-Person Meetups
While online interactions can be comforting, it's essential to venture into the real world as well. Seek local meetups or events related to your interests. These gatherings often provide a safe and supportive environment to practice face-to-face interactions with like-minded individuals. Remember, even small connections can lead to meaningful relationships and a sense of belonging.
4.   Comedic Therapy
Laughter is a potent antidote for anxiety. Attend stand-up comedy shows, improv classes, or open mic nights to experience the healing power of humor while engaging with others. Comedy serves as a bridge to connect with strangers in a lighthearted setting, breaking down social barriers and creating moments of shared joy.
5.   The 'Digital Mirror' Practice
Recording short videos where you speak your thoughts and ideas can help you become more comfortable with your own voice and presence. As you review these videos privately, you'll gain valuable insights into your communication style and discover areas for improvement. This practice fosters self-acceptance and empowers you to express yourself authentically.
6.   Anxiety-Inspired Art
Transform anxious thoughts into creative expressions. Engage in anxiety-inspired art, such as drawing mandalas, painting, or journaling for therapy, to externalize emotions and reduce their hold on you. Art provides a therapeutic outlet to release pent-up emotions and channel anxiety into a form of self-expression.
7.   Embrace Supportive Friends
Identify friends who understand and support your journey with social anxiety. Spending time with compassionate and patient friends can help ease anxiety during in-person interactions. True friends will respect your pace and provide encouragement as you navigate social situations.
8.   Embark on Group Activities
Participate in group activities or classes that align with your interests and passions. Whether it's joining a book club, fitness class, or hobby group, shared interests provide a natural icebreaker and common ground for meaningful interactions. Engaging in group activities fosters a sense of community and allows you to practice social skills in a supportive environment.
9.Virtual Support Groups
Join online support groups or forums dedicated to social anxiety. Connecting with others who share similar experiences can provide a sense of community, validation, and understanding. These virtual spaces offer opportunities to discuss challenges, exchange coping strategies, and celebrate progress together.
10. Kindness Communion
Participate in acts of kindness both online and offline, such as leaving supportive comments or performing random acts of kindness for strangers. Cultivating kindness creates a positive ripple effect, benefiting both you and those you connect with. Acts of kindness not only improve the well-being of others but also foster feelings of empathy and connection within yourself.
11. Online Anxiety Treatment Options
Take advantage of anxiety treatment online through reputable platforms. Online therapy, guided self-help programs, and virtual support groups offer accessible and effective methods to address social anxiety in the comfort of your home. Expert therapists and counselors provide personalized guidance and support, empowering you to overcome social anxiety and achieve emotional well-being.
Remember, it's okay to feel uncomfortable when pushing your boundaries. Each small step counts, and with time and practice, you'll find the strength to take more significant leaps. Online resources and in-person experiences offer a wealth of tools to help you build confidence, understand yourself better, and develop meaningful connections. Seek professional anxiety treatment online through reputable platforms for personalized guidance and support on your journey to managing social anxiety.
12. Mindful Self-Compassion
One of the most powerful tools for managing social anxiety is practicing mindful self-compassion. When faced with anxiety-provoking situations, it's common to experience negative self-talk and harsh self-judgment. Mindful self-compassion involves treating yourself with the same kindness, understanding, and support that you would offer to a close friend going through a challenging time.
Instead of being critical of your perceived shortcomings or mistakes, approach yourself with gentleness and compassion. Acknowledge that everyone experiences moments of social discomfort, and it's okay to feel anxious in certain situations. Remind yourself that you are not defined by your anxiety, and it does not diminish your worth as a person.
Managing social anxiety requires patience, persistence, and a willingness to explore new avenues both online and offline. By embracing both comfort and growth, you'll embark on a transformative journey that empowers you to face social anxiety with courage and resilience, fostering meaningful connections and a more fulfilling life. With the support of anxiety treatment online and your dedication to personal growth, you can overcome social anxiety's grip and embrace a more confident and connected existence.
---
Jennifer Bell is a mother of two, a wellness coach, and a writer for online mental health resources.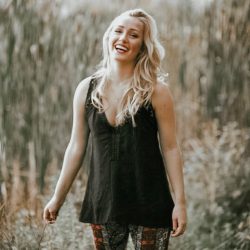 Latest posts by Chantal McCulligh
(see all)