Anxiety disorders affect millions worldwide, often leading them to search for relief through various means. One of the more sinister paths some take is the perilous journey of anxiety-driven heroin use. Find out all about the intricate web of self-medication and the vicious cycle it fosters to break free from anxiety and heroin use.
The Silent Struggle
Anxiety-driven heroin use begins as an attempt to self-medicate, providing a temporary escape from the relentless grip of anxiety. Those trapped in this cycle often feel trapped in a continuous loop of despair, where anxiety fuels the desire for heroin, and heroin, in turn, deepens their anxiety.
What exacerbates this silent struggle is the isolation it often brings. As anxiety intensifies, individuals may withdraw from their social circles, compounding their sense of despair. The deeper they dive into this cycle, the harder it becomes to reach out for help.
Escaping the Abyss
Finding a way out of the abyss of heroin use can be an arduous task. It's important to remember that individuals caught in this cycle often do not consciously choose to self-medicate with heroin; rather, it's a response to their overwhelming anxiety.
The path to recovery often requires a multifaceted approach. It involves acknowledging the underlying issues contributing to anxiety and understanding how self-medication has become the default coping mechanism. By shedding light on the root causes, one can take the first step towards breaking free from the abyss.
The Anatomy of Self-Medication
Anxiety-driven heroin use is a manifestation of self-medication, which is a common coping mechanism. When individuals with anxiety issues are unable to access proper healthcare or lack a support system, they often resort to substances like heroin to alleviate their symptoms.
Self-medication can feel like a lifeline when the world seems overwhelming. However, it's important to recognize that it merely masks the symptoms and does not address the underlying problem. This recognition is vital in helping individuals move away from destructive self-medication practices and toward healthier solutions.
---
---
The Dangerous Descent
This descent into self-medication can be difficult. It begins with a person experiencing anxiety symptoms, which may include racing thoughts, panic attacks, or overwhelming fear. To escape these sensations, they may turn to heroin, seeking solace in the drug's numbing effects. The initial relief can be seductive, luring them deeper into the clutches of addiction, warns Bright Futures Treatment Center. These addiction treatment specialists state that a dangerous spiral tightens its grip with every use, making it even more challenging to break free.
The Vicious Cycle
As the individual begins to use heroin to cope with anxiety, a vicious cycle emerges. The temporary relief it provides creates a dependence that exacerbates their anxiety when not using the drug. This, in turn, propels them back into using more heroin as a means of self-medication, only to repeat the cycle over and over. Breaking free from this cycle can feel like an insurmountable task, as the person becomes trapped in a seemingly never-ending loop of desperation and despair.
The Mind's Tug of War
With anxiety-driven heroin use, the mind becomes a battleground, torn between the relief heroin offers and the turmoil it leaves in its wake. This internal conflict can intensify the desire for heroin as individuals become desperate to escape their crippling anxiety. It's a constant battle that can erode a person's self-esteem and willpower, leaving them feeling powerless against the allure of the drug. The mental tug of war often leaves individuals feeling trapped in a cycle that's not easy to break.
The Underlying Causes
To break the cycle, it's essential to address the underlying causes of anxiety. For many, anxiety disorders have deep-rooted origins, which can be triggered or exacerbated by life events. Seeking professional help and therapy is crucial in understanding and managing these issues. It's also important to recognize that self-awareness plays a significant role in this process. Individuals can take proactive steps toward addressing these issues by identifying the specific triggers and thought patterns that fuel anxiety.
Treatment and Support
Effective treatment for anxiety disorders is available and can provide alternatives to self-medication with heroin. Therapy, medication, and support from healthcare professionals and loved ones can offer healthier coping mechanisms and help individuals regain control over their lives. If you or someone you know is struggling with heroin use, seeking help from a dedicated heroin rehab facility is a vital step on the path to recovery.
In addition to traditional therapeutic methods, alternative therapies such as mindfulness, yoga, and art therapy have shown promise in helping individuals manage their anxiety. The diversity of available treatments allows for a tailored approach to suit each individual's needs. Whether through medication, therapy, or holistic practices, there are many avenues for individuals to explore as they seek healing and liberation from the grip of anxiety and addiction.
Breaking Free
Overcoming heroin use is undoubtedly a challenging journey. Breaking free from this destructive cycle requires unwavering determination, professional assistance, and a genuinely caring support system.
It's worth noting that relapses can be part of the recovery journey, and individuals should not lose hope if they encounter setbacks. Each day without heroin is a significant achievement, and the path to recovery is rarely linear. A supportive network that understands the challenges can make all the difference in staying on course.
A Ray of Hope
Although anxiety-driven heroin use is a harrowing ordeal, it's crucial to remember that recovery is possible. With the right help and support, individuals can find healthier ways to manage their anxiety and regain control of their lives. Recovery is not a linear process, and setbacks can happen. It's important to be patient and compassionate with yourself or someone you know who is on this journey. Celebrate each small victory, whether it's a day without heroin or a successful therapy session.
Support networks are essential for long-term recovery. Connecting with support groups or peer recovery programs can provide a sense of community and understanding that aids in the healing process. These communities offer a safe space to share experiences, struggles, and successes, creating a sense of belonging and motivation to continue moving forward.
---

---
Anxiety-Driven Heroin Use: Start Healing Today
Anxiety-driven heroin use is a perilous journey into the depths of self-medication and the vicious cycle it creates. Understanding the roots of anxiety and seeking professional treatment is the first step in breaking free from this destructive pattern. With the right support, recovery is possible, offering hope for those trapped in this cycle of despair.
---
This blog post contains affiliate links,  but all opinions are my own. I may receive compensation from BetterHelp or other sources if you purchase products or services through the links provided on this page.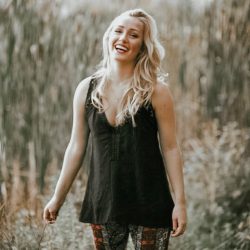 Latest posts by Chantal McCulligh
(see all)