There's an everyday danger that a lot of people don't discuss, and it happens to be closely linked to addiction. Anxiety and alcohol is often go hand-in-hand for people looking for anxiety relief; they use the alcohol as a form of self-medication. Unfortunately, this that can be detrimental to your health and healing. But before you begin eliminating alcohol from your day, it's imperative to know the anxiety triggers that may come during your recovery.
Anxiety and Alcohol
Many people turn to alcohol in an effort to quell their unending anxiety. And not only does that form of self-medication not work, but it can also lead to addiction and serious health problems, many of which are far worse than the anxiety you're trying to treat.
It's important to take a look at your habits when combating anxiety and alcohol. If you are notice that your drinking habits are excessive or that you drink in an effort to quiet your anxiety, it's crucial to start the elimination process. This can be a terrifying concept, especially for anyone who has been using alcohol as a form of self-medication. The mere thought of not having the alcohol can send your anxiety into a tailspin. More importantly, if it does, this is a clear sign that it's time to begin your alcohol recovery journey.
How to Manage Alcohol and Anxiety
In recovery, anxiety rears its ugly head again. But since we've shed our old coping mechanisms, anxiety is more damaging than ever. Not only are we left to face the demon, but the demon drives us to want a drink. Your first line of defense is to recognize and avoid any triggers you can possibly avoid.
Here are some common anxiety triggers to watch out for in recovery.
Social situations
During recovery, it's important to surround yourself with supportive people. You don't want to isolate yourself. But at the same time, it can be better to spend time alone than to spend time with the wrong people.
For a recovering alcoholic, parties and social gatherings can be extremely triggering for a few reasons. First, there's the issue of drinking. Especially in early recovery, it's difficult to be around other people who are drinking. This can lead to major anxiety that puts your sobriety at risk. And if you're surrounded by toxic people, you may feel extra pressure to drink.
But even if we're talking about a sober event, people with social anxiety may feel the need to self-medicate with alcohol. The pressure to relax and engage with others can make you feel like you need a drink, especially if that's how you've handled these situations in the past.
If you're triggered by social situations, know that it's okay to be selective about how you spend your time. If you feel that any event is putting your mental or emotional health at risk, it's usually okay to skip it.
Finances
Money is a source of worry for so many people. And this is a difficult one to avoid. When you're in early recovery from alcoholism, you might feel like you're rebuilding your entire life. And during this time, you may encounter some financial difficulty. Pay close attention to your financial health, but try not to stress about it. Understand that you have a lot to focus on at this time, and sobriety is of paramount importance.
Additionally, it's a good idea to find healthy outlets for stress — because some stresses cannot be avoided.
Lack of sleep
When you aren't sleeping well, everything becomes a trigger. And anyone who has struggled with alcoholism knows this all too well. Someone with alcoholism has a greater chance of experiencing sleep disturbances than the general public. While you're drinking, alcohol disrupts your ability to fall into deep REM sleep. And it can take many months for your sleep to return to normal even after you stop drinking. When you were drinking, you probably had more trouble staying asleep, but in recovery, you'll probably find that it's more difficult to fall asleep.
If you're struggling with any insomnia in recovery, be sure to practice good sleep hygiene and talk to your doctor about what's going on.
Experiencing Anxiety During Early Stages of Sobriety
In addition to the triggers mentioned above, there are a few other things that people in alcohol recovery should be aware of. One is the possibility of experiencing anxiety during the early stages of sobriety. This is because alcohol is a depressant, and when people stop drinking, they may experience withdrawal symptoms, which can include anxiety. Another thing to watch out for is the temptation to relapse. This can be triggered by a variety of things, such as stress, boredom, or social pressure. If you are struggling with anxiety or the temptation to relapse, there are a number of resources available to help you. You can talk to your therapist, join a support group or do both of these with an online therapy session.
————————————————— Scroll to continue reading—————————————————
Anxiety and alcohol is a common problem in our modern, fast-paced society. But it's especially problematic for anyone who is in recovery from alcoholism. Because so many alcoholics use alcohol to self-medicate their anxiety, anxiety becomes a trigger for drinking. And while we can't avoid stress altogether, we can do our best to avoid the most common anxiety triggers. For the rest, we may find healthy ways to manage stress, such as yoga, meditation, and exercise.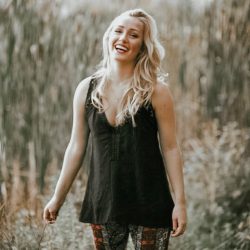 Latest posts by Chantal McCulligh
(see all)