A state of constant sadness that persists for more than fifteen consecutive days, energy outage, will and interest; Changes in appetite, sleep, and sexual desires can mean the first symptoms of a bout of depression. It is a problem that affects an increasing number of people in the present times, leaving many people wondering how they can prevent and combat this evil of modern life. For many, the spiritual approach to healing depression has been a great success.
Can Depression Occur At Any Age?
It happens at all ages, including childhood. A thesis presented at a psychoanalysis congress in Rome in 1953 showed that lack of affection and attention can cause depression. The experiment was carried out with 165 boys who lived with their mothers for at least six months and then left for some reason. In the first month, the babies began to cry more, became sad, and kept their distance from the approaching people. In the second, they no longer had the same quality in weight gain and height, and in the third, if the mothers did not return, they would acquire infections more easily. Some even passed away. In case mothers returned, the babies would heal from depression. This shows that love is a valuable element in treating the problem in addition to being optimistic.

Depression can also occur in adolescence, with irritability as the most common symptom. In fact, the number of young people with depression has been increasing due to the excessive use of alcohol and drugs. Alcohol is the greatest depressant agent of all. It interferes with the mood control system, causing the individual to have behavioral changes. At first alcohol disinhibits, so most people like to drink, but if there is a genetic predisposition, addiction can occur.
How Depression is Analyzed from a Medical, Humanistic and Spiritual Perspective
Depression has many faces. From the humanistic point of view, love, since childhood, is a primary factor and begins within the family. If there is a sincere relationship between the partners, the child will grow up within a structured home, even with all the natural difficulties of a human relationship. The individual learns early on how to deal with dissatisfaction, crises, respect, friendship, detachment and other important aspects in relationships.

Often, if a person has low self-esteem, no self-confidence, discouraged, disinterested, no pleasure in life and feels that someone cares about him, his immunity greatly improves. The human being needs to feel recognized. Without it, you begin to feel a sense of emptiness and anguish. The depressed have misconceptions about what they think about themselves. The individual does not conform to what he can be and what he would like to become.

From a medical point of view, depression is a lack of neurotransmitters in the brain that needs medication, that is, chemical control. From the spiritual angle, guilt, remorse, hurt and resentment lead the person to depressive states, which can cause the development of psychosomatic illness and even cancer.
What Are The Causes of Depression
In primary depression the individual is born with a lack of neurotransmitters and with doses of medicine and love depression can be prevented. We also remember that depression receives genetic factors. Studies with twin brothers prove the fact. In secondary, there are factors that can trigger depression such as some medications that affect mood, post-surgery, postpartum, premenstrual, menopause, among others.
Healing Depression Symptoms
First seek a psychiatrist so that wrong medicines are not taken. Each patient needs a specific antidepressant. If in addition to medicine, therapy, sleep care, eating, and relationships, the depressed person does spiritual treatment with magnetic passes, fluidized water, and Gospel reading, all the better. Complete treatment encompasses the biological, psychological, social and spiritual. All lead to move on from the past.
Preventing Depression Psychologically and Spiritually
If the genetic factor is too strong, psychological and spiritual factors can be avoided. Psychologically, we can teach the child to deal with the lack of things and people by setting boundaries. Educating is frustrating, because life on earth has loss, pain, suffering, and we will inevitably go through such situations. If we are brought up early to deal with situations, we will be better equipped. If each parent gives a gift, or somehow satisfies the pleasure principle all the time, they are creating insecure, rebellious beings who will learn to see matter as the solution to their problems. Instead, they should teach the principle of forgiveness, truth, sincerity, respect, loyalty, companionship, and dialogue. The real prevention lies in self-knowledge, self-love and neighbor, being aware that human beings are as they are, not the way we would like them to be. We can only understand each other when we understand each other, learning to accept, to cope with dissatisfaction. There is no way to prevent depression but to go through ourselves. God is within us, so thank Him for life. When the storm passes, a beautiful sun rises.
Healing with Meditation for Depression
Although depression meditation techniques have been taught by Orientals for centuries, they are being discovered and used recently by Westerners. If we understand that a perfect interaction between body, mind and spirit, will make us achieve true happiness and recognize meditation as a way to achieve it, we will only lack a little determination to create a small door into our lives. There are various spiritual ways to ease anxiety, such as Zen Buddhist, Hindu, etc. There are several explanations and directions, according to each school or study organization. For me personally, I like to say that meditating is "being" with your higher self, and that brings peace and harmony.
How Long Do You Have to Practice Meditation for Depression?
As we are still at the beginning of our evolutionary walk, meditating for a few minutes in the morning and evening daily is a great start. Once you have the practice down, you can tap into that inner peace whenever you need.
The Benefits of Using Depression Meditation
Depression does not happen overnight, because it is a slow process that becomes lodged in the brain and that disharmonizes your being. The practice of meditation or using meditation for depression to begin healing doesn't happen overnight either. However, with regular practice, meditation brings clarity, calmness and harmony back into your life, while also eliminating the stress that exists in these cases, and also serves as a preventive method.
How to Start Meditating for Depression
Just start by internally searching for the Divine presence or "quiet" at all times throughout the day, and the most appropriate way to use meditation techniques to start healing depression will come to you.
A simple exercise you can practice when feeling tired and discouraged
If possible, wake up a little earlier than usual, look for a quiet corner and sit quietly for a couple of moments. Forget about everything else; times, obligations, sorrows and joys and focus on breathing; breathing in and out with ease. Take this time to observe your thoughts, but do not focus on them; observe them and then let them go.
After a brief time of being in meditation, think of God, the Universe, Mother Nature, your higher self – whatever you believe in – and try to feel it with all the love in your heart. Let yourself be carried away by this indescribable sensation.
Breathe. Let your mind be quiet and allow it to take you to an internal place of healing.
In a chronic state of depression, it is always important to seek the help of a professional, whether a skilled doctor or therapist, as well as spiritual help. Online counseling for depression is an excellent option that lets you receive professional healing in the comfort of your own home and meditation allows you to begin healing depression spiritually on your own time as well. Because as has been said, the depressive picture does not come at a moment's notice and meditation – which is our desire to quiet the mind and connect – has been an excellent preventive method, not only against depression but against all mental health concerns.
Depression has its genesis in the spirit, which reincarnates with a high dose of guilt, when yielding in the process of evolution under negative factors that signal the march and that was not resolved by releasing itself for good. With a guilty conscience, suffering the encumbrances that tear her inner joy, she imprints on the cells the elements that disconnect them, providing, in the long run, the unleashing of this psychosis that dominates a hundred million creatures today. If we are to examine the psychological, genetic, and organic causes well studied by the sciences in charge of penetrating the problem, we must take into account the immortal spirit that generates the emotional and physical frameworks it needs to grow toward God, your spirit, and your highest self..
---
This blog post is sponsored by BetterHelp online therapy, but all opinions are my own. I may receive compensation from BetterHelp or other sources if you purchase products or services through the links provided on this page.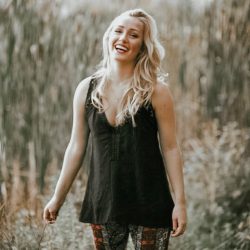 Latest posts by Chantal McCulligh
(see all)