No two people are affected the exact same way by anxiety and treatment is not "one size fits all".  What works for one person dealing with anxiety might not work for another.
Just like medications, you have to see what works for you because there are many different root causes of anxiety. To help you find the anxiety treatment for you, take a look at the best types of therapy for anxiety and how they can address your specific situation.

Types of Therapy for Anxiety
Therapy is an imperative part to learning how to overcome anxiety.  Some are tailored to help you develop an awareness of your feelings, where they stem from, what triggers them and how you can change your reaction to them to reduce anxiety. Others types of therapy teach practical techniques to reframe negative thinking and change repeated behaviours. Some use binaural audio to rewire your brain and others use lights to put you in a state of hypnosis to unveil the root cause of your anxiety. There are many different types of therapy for anxiety available. I've personally tried most of them and each offers something unique.
Most Common Types of Anxiety Therapy
The most common types of therapy for anxiety include cognitive behavioural therapy, interpersonal therapy, and psychodynamic therapy. You've likely heard of these throughout your healing journey because they are effective. Some therapists also offer blended approach. Again, it's all about finding what type of therapy works best for your root causes of anxiety.
Online Therapy for Anxiety
The downside is that most anxiety therapy and counseling is expensive and there's a massive waiting list. Trial and error just isn't plausible. You want to find the best option right away. Online therapy for anxiety is significantly cheaper than traditional therapy and it's way more convenient. You don't have to wait years on end to get "whatever therapist becomes available" either. With online anxiety therapy, you can get a therapist selected specifically for your situation in a couple of days. You can communicate with them through phone, video chat, and texting, and whenever you need. Unlike traditional therapy, you don't have to wait until your next appointment to unleash your emotions and anxiety. With online counseling for anxiety, you can reach out to your therapist anytime you need and as often as you want. You aren't charged per session like traditional therapy, and instead, pay a small flat-rate fee that covers that week, month, year, etc.
Best Types of Online Therapy
Just like traditional therapy, there are many different options for online anxiety counseling as well. Here are the top recommended platforms for online therapy. You'll find different types of therapists on each platform as well so you can find one that addresses your needs specifically.
Best Types of Therapy for Anxiety
Let's dive into the best types of therapy for anxiety and the type of person or situation each is best suited for.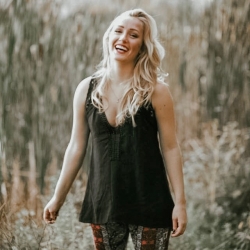 Latest posts by Chantal McCulligh
(see all)