In recent years, online therapy has emerged as a viable and convenient option for individuals seeking mental health support. Online therapy, also known as e-therapy, teletherapy, or virtual therapy, allows people to receive therapy from licensed mental health professionals through digital platforms such as video conferencing, messaging, or phone calls. The benefits of receiving professional counseling online are numerous, including increased access to mental health care, greater flexibility in scheduling sessions, and the ability to receive therapy from the comfort of one's own home. For those who are interested in exploring this option, online therapy can be a helpful tool in managing mental health concerns.
---
Sponsored Content

---
What is Online Therapy?
Online therapy, also known as e-therapy, teletherapy, or virtual therapy, is a form of mental health counseling or therapy that is provided through digital platforms, such as video conferencing, messaging, or phone calls. Doing therapy online allows individuals to access mental health care services from licensed mental health professionals from anywhere in the world, as long as they have a reliable internet connection. Virtual therapy sessions can be scheduled at a time that is convenient for the individual and can be conducted from the comfort of their own home or other private location.
How to Start Doing Therapy Online
If you're considering online therapy, there are a few steps you can take to get started:
Research and choose a reputable online therapy platform or mental health professional: Look for licensed therapists or counselors who specialize in the areas you want to address.
Check the requirements for using the online platform or software: Some platforms may require you to download software or have specific hardware or internet speed requirements.
Schedule an appointment with a therapist or counselor who offers online therapy: Make sure to check their availability and time zone if they are in a different location.
Before your first session: Make sure you have a private and quiet location where you can speak openly with your therapist without interruption.
Make sure you have a stable internet connection and test the video and audio quality of the platform beforehand to avoid technical issues during the session.
During your first session, discuss your mental health concerns and goals with your therapist: Your therapist may ask about your medical history, current symptoms, and other personal information to create a treatment plan that meets your specific needs.
Remember that online therapy may not be the best fit for everyone, and it's essential to find a therapist that you feel comfortable and confident working with. With the right therapist and tools, online therapy can be a convenient and effective way to receive mental health support.
---
Sponsored Content

---
Pros and Cons of Online Therapy
The list of pros and cons of online therapy is long. So, we decided to stick with the most important ones. Prepare to be amazed.
Pro: Access to Thousands of Licensed Therapists
One of the first advantages we noticed about online therapy is how many licensed therapists you have access to. While the initial questionnaire process is pretty standard across the therapy industry, both online and in-person, you aren't limited to only a handful of therapists within a specific office when you opt for online therapy. To be more specific, Better Help uses the information you provided on your questionnaire to pair you with the best of 2000 licensed therapists.
Con: Some People Prefer the Face-to-Face Interaction
If you're someone who likes having a counselor physically present and in the same room as you, online therapy for anxiety may not be the best option for you. However, keep in mind that with the option of video chat, it can certainly feel like your therapist is in the same room as you.
Pro: Higher Likelihood Of Finding the Best Therapist for You
With that said, we found that you have a better chance of finding the best therapist for you because the pool of licensed therapists is so large. This is incredibly important because the success of your online counseling highly depends on finding the right therapist for you.
That's also not to mention that all the counselors on both Better Help and My Therapist are licensed, accredited professionals.
Con: It Can Feel Like You Don't Know Your Counselor
Depending on how you, as an individual, connect and relate to other people, online therapy may feel like you're talking to a stranger as opposed to a qualified counselor. Since the connection you have with your worker is imperative to your success, this is a con worth considering.
Pro: Communicate With Your Therapist As Often As You Want
Long gone are the days where you have to wait for your next appointment, despite experiencing a crisis right now! Better Help allows you to communicate with your therapist as often as you want, at your own time and at your own pace.
Con: You Need The Internet
Finding an internet connection isn't hard these days. However, technical glitches still happen and it can be frustrating when speaking with your therapist. If you are experiencing technical issues, we do recommend increasing your internet package and/or technology.
Pro: Unlimited Online Counseling for a Flat Fee
With the previous advantage mentioned, it's easy to assume that online therapy can quickly become expensive, especially if you're using your therapist daily. However, Better Help has a low flat fee, so you aren't charged per session as you are when you physically see a therapist.
Con: Not All Companies Cover Online Therapy
If your employer covers traditional therapy, that doesn't necessarily mean they will cover online therapy. Most do, but this isn't always the case. So, it's something to look into if you're relying on your company for coverage.
Pro: Online Therapy is Much More Affordable
Inarguably, one of the top reasons people don't attend therapy is due to the cost – therapy is expensive! However, since online therapy platforms, such as Better Help, charge a flat fee, it's significantly more affordable.
Con:  There's Still a Price
Unfortunately, we don't yet live in a world where mental healthcare services are free. Fingers crossed though!
Pro: Receive Help in a Safe, Private Place
As an anxiety sufferer, leaving the house isn't always as easy as it seems; attending therapy in an impersonal, unfamiliar place makes it even harder. With online therapy, you can do the therapy whenever and wherever you are (as long as you're connected to the internet), which allows you to remain in your safe place. This can actually encourage you to be more open and honest about your mental illness and needs.
Con: Security Concerns
Anything that has to do with the internet is going to come with some concerns over security. Every online therapy platform we checked has security systems put in place to protect your confidentiality. However, we're sure there are some out there that don't. So, always opt for a reputable company.
We also recommend installing security software on your computer if you are concerned.
Pro: Less Pressure, More Openness
We also found that we were able to be more open about our mental illness when we didn't have a therapist sitting across the room staring at us. We felt less judged and less pressure to say "the right things", which in turn, allows for better help.
Con: Lack of Face-to-Face Interaction Can Make It Difficult for Therapists to Provide Optimal Care
Many therapists rely on both verbal and physical communication (cues) from their patients in order to properly assess their condition and situation. So, a lack of face-to-face communication can potential skew the healing process, which is why we recommend doing the therapy sessions via video chat and online using the text services in desperate times of need.
Pro: You Don't Have to Be on a Waiting List
The worst thing about opting for traditional therapy is having to wait to be able to start. By the time you're actually connected with a therapist, you may have already given up on the idea of seeking professional help.
With online therapy, you can start right away.
Con: Starting RIGHT NOW Can be Scary
Being able to get matched with your counselor in as little as 24 hours can be scary. Don't let this deter you though. Often times, the best things in life are the scariest at first.
Pro: You Don't Have to Wait on a Long List if You Wish to Change Therapists
If, by the odd chance, you don't like your therapist, you can easily change your counselor with a click of a button. There's no need to wait on a long list just to receive the help you need.
Con: Switching Therapists Can Be Disheartening
This con isn't specific to online therapy, because anytime you have to switch therapists, it can feel disheartening. At this with online therapy, the switch gets done immediately, so you don't have to feel discouraged for very long.
Pro: Online Therapy is Still a Tax Write Off
You don't need insurance to reap the benefits of online therapy, and in most places, the small amount you do pay for platforms such as Better Help can be reimbursed on your taxes. Again, this is something to look into depending on where you live.
Con: It's Not a Tax Write Off Everywhere
As we mentioned previously, not all places cover or reimburse online therapy. So, this is something to look into if you were banking on getting some funds back come tax time. Pardon the pun.
Pro: No One Has to Know
Thanks to the good ole' stigma attached to mental health (please note our sarcasm), some people don't want other people to know they're going to therapy. This can be hard to hide if you have to physically be at the office. So, online therapy allows you to seek professional help without fearing that others will find out. However, there is nothing wrong with going to therapy.
That's also not to mention that you remain completely anonymous on platforms such as Better Help. You choose a nickname of your choice, and are not obligated to provide your legal name.
Con: Using a Nickname Can Feel Less Authentic
If you're having your online therapist call you by a random screen name, the authenticity of therapy can be lost. So, try to choose a nickname that is a little more personal and fitting.
---
Sponsored Content

---
Our conclusion after going through the pros and cons of online therapy? It's amazing and a long-time overdue! While online therapy won't be for everyone, just as traditional therapy isn't for everyone, it's certainly a viable option that can help you cope and manage your anxiety, depression, trauma, emotions, etc.
We personally loved the Better Help and found that, out of all the pros and cons of online therapy, this one really prevailed in the "pro" category.
---
This blog post is sponsored by BetterHelp, but all opinions are my own. I may receive compensation from BetterHelp or other sources if you purchase products or services through the links provided on this page.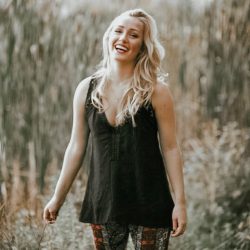 Latest posts by Chantal McCulligh
(see all)