Just when you think all baths are created equal, you discover that the ingredients you put into your bath water plays a huge part in the experience you have. While there's no denying that taking a nice warm, soothing bath is great for relaxing and unwinding, you should be pouring in some Himalayan salt for mental health.
The Benefits of Himalayan Salt for Mental Health
From epsom salts to bath bombs, Himalayan salts and bubble fizzes, it can be difficult determining which option is the best for your mental health and self care. As a rule of thumb, I always suggest avoiding anything that has packed chemicals and toxins into the product. After all, you're taking a bath to detox and soaking in a tub of chemicals is definitely not the right way to do it.
Epsom Salts vs. Himalayan Salts for Mental Health
Epsom salts are a popular option for baths, and a sufficient one, but Himalayan bath salts are an absolute necessity for mental health. Why is Himalayan bath salts better than epsom salt? It's simple.
What are the differences between epsom salts and Himalayan salts?
Epsom salt is not actually salt. Instead, it's a mineral from water that contains high levels of magnesium and sulfate. Sure, it looks like salt due to its crystalline appearance but it's simply a pure mineral compound.
Himalayan bath salts are magnesium and sulfate plus another 82 essential minerals and trace elements that increase its healing properties. Some ingredients are anti-fungal, others are anti-bacterial, some are anti- microbial and all are 100% natural. Himalayan salt also produces negative ions to purify the air (and your bath) of bacteria, dust, allergens and pollutants. This is why many mental health coaches recommend adding Himalayan salt lamps into your home.
When warmed, whether in a bath or by a light in a Himalayan salt lamp, this type of salt charges the negative ions, allowing them to enter your body and attach to toxins. The salt then neutralizes their charge and detoxifies your system.
As if that wasn't enough to convince you that Himalayan salts are clearly the better option, its history is quite enticing. Unlike epsom salt, which comes from water, Himalayan salts come from salt caves that date back to Precambrian Age. It's known as the purest salt on this planet.
Benefits of Himalayan Salt for Mental Health
There's no denying that using Himalayan salt for mental health can be a powerful tool for alleviating discomfort and anxiety symptoms. Here are some specific benefits of Himalayan salt for mental health concerns:
Boosts energy levels by providing you with fresh, clean air
Help dealing with stress, anxiety and depression
Reduces stress and anxiety by cleansing the air
Promotes better sleep
Decreases the effects of Seasonal Affective Disorder
Detoxifies the body
Soothes the mind and body
Helps you relax and de-stress
Eases your aches and pains
Himalayan Salt Benefits 101
The benefits of Himalayan Salt don't end with your mental health. In fact, the world's best ingredient is extremely powerful for alleviating all types of symptoms and discomforts, whether from stress, illnesses, toxic relationships, poor quality air, diseases, cold and flu, etc. Take a look at some of my favourite benefits of Himalayan salt:
Detoxifies the body by balancing systemic pH
Soothes arthritis
Stimulates circulation
Deep cleans your skin
Improves hydration
Boosts mineral status of the body
Clears out your sinuses
Provides respiratory relief
Reduces muscle cramps and tension
Helps balance blood sugar
Supports hormone balance
Helps balance blood pressure
Improves sleep by balancing your body
Acts as a powerful antihistamine


Now that you understand the power of using Himalayan salt for mental health, it's time to fix yourself a bath and fill your home decor with Himalayan salt lamps.
Our new collection of Himalayan Rose Pedal Bath Salts bring the power of healing minerals into your bath tub, and in a cute package too. The Himalayan bath salts are 100% genuine and of highest quality, and yes, the rose pedals are real, leaving you scented with the aroma of nature.
Note: If you or a loved one are struggling with mental health, please seek professional help. With online counselling, you can complete your sessions online, in the comfort of your own home and for a fraction of the price. Try Better Help for free for 7 days with this free trial.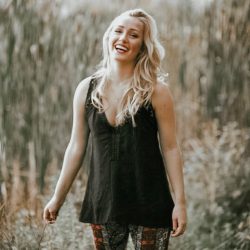 Latest posts by Chantal McCulligh
(see all)