When you find yourself thinking about harnessing the benefits of online therapy, you're likely also thinking about whether or not online therapy is as powerful as in-person therapy. While this is a topic in itself – and one that we will discuss in a later post, the short answer is yes. Although, it takes slightly more effort from you as it's up to you to commit to the therapy sessions. So, we've created these tips for online therapy to ensure you get the most out of your sessions – and healing.
What is Online Therapy?
Online therapy is also known as internet therapy, e-therapy,  e-counseling, cyber counseling and web therapy, as it's attending regular therapy sessions with a trained professional, only on the internet.
It's quite similar to traditional in-person therapy but has many additional and exclusive benefits that are hard to come by within traditional practices. We have an entire post dedicated to the reasons online therapy is better but to sum it up, here are some of our favourites:
More affordable
Availability (no more waiting lists!)
Access to a therapist 24/7
Great for people with social anxiety or agoraphobia
Paired with a therapist best suited for you
We really like that Better Help provides you with a questionnaire to fill out so they can pair you with the best therapist for you. However, there are some other amazing online therapy platforms. Here are some of our top recommendations:
How to Get The Most Out of Online Therapy?
Like all forms of therapy, it's up to you to commit to attending your therapy sessions and to implementing the information learned into your life outside of the session. Many of these tips for online therapy are actually tips for therapy in general. So, don't let this list of tips for online therapy deter you from trying e-therapy.
#1. Be Honest
The number one rule to any type of therapy or counseling is to be honest. It is near impossible for a therapist to provide you with the best help possible if you are not being honest with them.
Their job requires strict client-therapist confidentially, so feel free to open up and let out your deepest thoughts. Everything you discuss, whether in-person or in online therapy will remain private (unless you are a danger to yourself or someone else).
#2. Commit to Your Appointments
If you want to heal, you need to commit to doing just that. Anyone can do e-therapy but it's up to you to actually take the advice provided to you. Your online therapist will not "fix" you or tell you what to do; they will advise you on what to do to help yourself while providing a safe place for you to talk.
#3. Prepare for you Online Therapy Sessions
One of the best tips for online therapy is to be prepared. Just as you would get ready to leave the house to attend in-person therapy, you need to make sure you're all set up and ready to go when your appointment is scheduled.
This means finding a quiet place in your home, setting up your computer and making sure the internet is working, plugging in headphones if you choose, etc.
#4. Find a Therapist that Suits You
A huge problem with the industry is a lack of availability. It can be hard to find a therapist who is taking on new clients, so when one does come available you take it regardless as to whether or not they're best suited for you.
This is a huge benefit to using e-therapy because you don't have to wait on a waiting list. You can get started right away. This allows you to find the best therapist for you.
However, this is done via a questionnaire that Better Help provides. So, if you don't feel a comfortable connection with your therapist, feel free to request a new one. Better Help actually encourages this, as they understand how crucial it is to feel comfortable with your therapist. And because there is no shortage of online therapists, you don't have to wait on a list!
#5. Have a Goal to Surprise You Therapist With Your Progress
Growing up, my goal was to always "surprise" my therapist each and every appointment; to show them that I did whatever it was that we were working on and if possible, more. This was my motivation for not only using the tips provided but to also better my life as a whole; to commit to changing my life.
Chantal M.
#6. Be Yourself
Online therapy is your safe place. Remove the mask and show your many faces. This coincides with some of the other tips for online therapy, as you must be honest not only with your therapist but also, with yourself.
This is your safe place, so come out of hiding for your sessions.
#7. Keep The Focus on You
Venting feels good. Heck – it feels damn good and while therapy is a great place to vent about what other's did or how they made you feel, it's important to keep the focus on you. Dedicate 5 minutes of your sessions to blowing off some steam, and then bring it back to you – what can you do about it, how can you change this, what changes can you make to decrease their effect on you?
#8. Don't Be Afraid to Let It Out
It's your therapy session and you deserve to let out your emotions. Let out your tears, your anger, your shame, your guilt, your fear, your happiness – welcome them all.
Here's one of our favourite tips for online therapy regarding emotions… Bring attention to which emotions you have difficulty expressing and then, practice letting out your emotions and then containing them and resuming life with control.
#9. Take Responsibility
Your therapist, whether it's an online therapist or an in-person therapist is not going to tell you what you want to hear. It's their job to tell you what's accurate and sometimes, you might not like what they have to say. Perhaps they call your bluff or remind you that you're in control of the way you react and other people aren't to blame for that. It can be hard to take the hard truth but sometimes, depending on how the therapy sessions are going, that's exactly what therapists need to do.
So, prepare to take responsibility for your own actions but of course, do so in a way where you aren't judging or degrading yourself. Have compassion for yourself and appreciate the different perspective your therapist brings to the table.
Whether you want to call it online therapy, e-therapy, e-counseling, cyber counseling or something else, there's no denying the power that comes from speaking with a trained professional. Over 4 MILLION people are benefiting from online therapy and you can be yet another. Learn more about Better Help on their official website.
---
This blog post is sponsored by BetterHelp, but all opinions are my own. I may receive compensation from BetterHelp or other sources if you purchase products or services through the links provided on this page.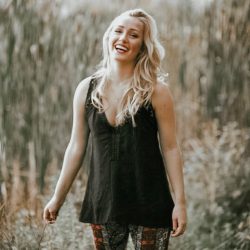 Latest posts by Chantal McCulligh
(see all)