When we experience stress and anxiety, it's important to remember that our brains can be quite sensitive. It's wired to detect potential dangers and send warning signals to keep you, whether it's from a real threat or something more ambiguous situation like an email from our boss. But sometimes, it can work against us, triggering that a potential threat or danger is near when it isn't. This can leave you feeling stuck in a vicious flight or fight cycle, trapped by anxiety over fears that simply aren't realistic or likely. Fortunately, there's a hidden ally within our own bodies that we can tap into—the vagus nerve. Among its many functions, one that stands out is its ability to activate a relaxation response and help you calm down.
How to Stimulate Your Vagus Nerve
When the vagus nerve is stimulated, particularly as part of our parasympathetic nervous system, it helps slow down your heart rate and breathing, effectively calming down your nervous system.
Understanding the power of the vagus nerve gives you a valuable tool to combat anxiety and stress. By engaging in practices or activities that stimulate this nerve, you can gradually shift your body out of that tense fight or flight mode and into a state of relaxation. So, let's explore ways to stimulate the vagus nerve to activate your biological antidote to anxiety and stress.
1. Deep Breathing
One fantastic way to support a healthy vagus nerve function is with deep, slow belly breathing. By engaging in breathing exercises, you can effectively shift your attention away from stress or discomfort. When you concentrate on the rhythm of your breath, you naturally divert your attention away from the anxiety causing you such distress and discomfort.
Breathing deeply also stimulates the vagus nerve to further help you achieve calmness and relaxation.
Additionally, when under high stress or anxiety, many of us tend to hold our breath or stop breathing altogether. However, this breath-holding response actually activates the fight/flight/freeze reaction, intensifying feelings of pain, stiffness, anxiety, or fear. To counteract this, practicing deep breathing is crucial. Here are a few tips to keep in mind:
Take your time and breathe more slowly, aiming for about six breaths per minute. Allow yourself the space to inhale and exhale at a comfortable pace.
Focus on breathing deeply, drawing the air in from your belly. Visualize your abdomen expanding and your rib cage widening as you take in each breath.
Pay attention to your exhale, ensuring that it is longer than your inhale. It's during the exhale that the relaxation response is triggered, promoting a sense of calm.
By embracing deep breathing practices, you can actively support your well-being and promote a healthier state of mind while maintaining the healthy function of your vagus nerve.
2. Sing, Chant, Hum or Gargle
By engaging your vocal cords, you can actually give your vagus nerve a gentle nudge to get working, since it travels up your neck. Singing is a wonderful way to activate the vagus nerve and enhance our overall well-being, and busting out to your favourite tunes feels good too!
Another great way to activate your vagus nerve is by chanting the sound "OM" repeatedly. This practice is commonly found in yoga, and can have a profound calming effect and foster inner peace. Research has also confirmed that this chanting practice promotes deep relaxation, making it an effective tool for anxiety.
You can achieve the same benefits from humming or gargling water if you're really not feeling up to the music.
3. Vagus Nerve Stimulation Tools
There are various tools available for stimulating the vagus nerve, offering different approaches to suit individual needs. While some options require invasive procedures and surgery, others, like Truvaga, are non-invasive and offer effective, clinically-studied vagus nerve stimulation on-the-go.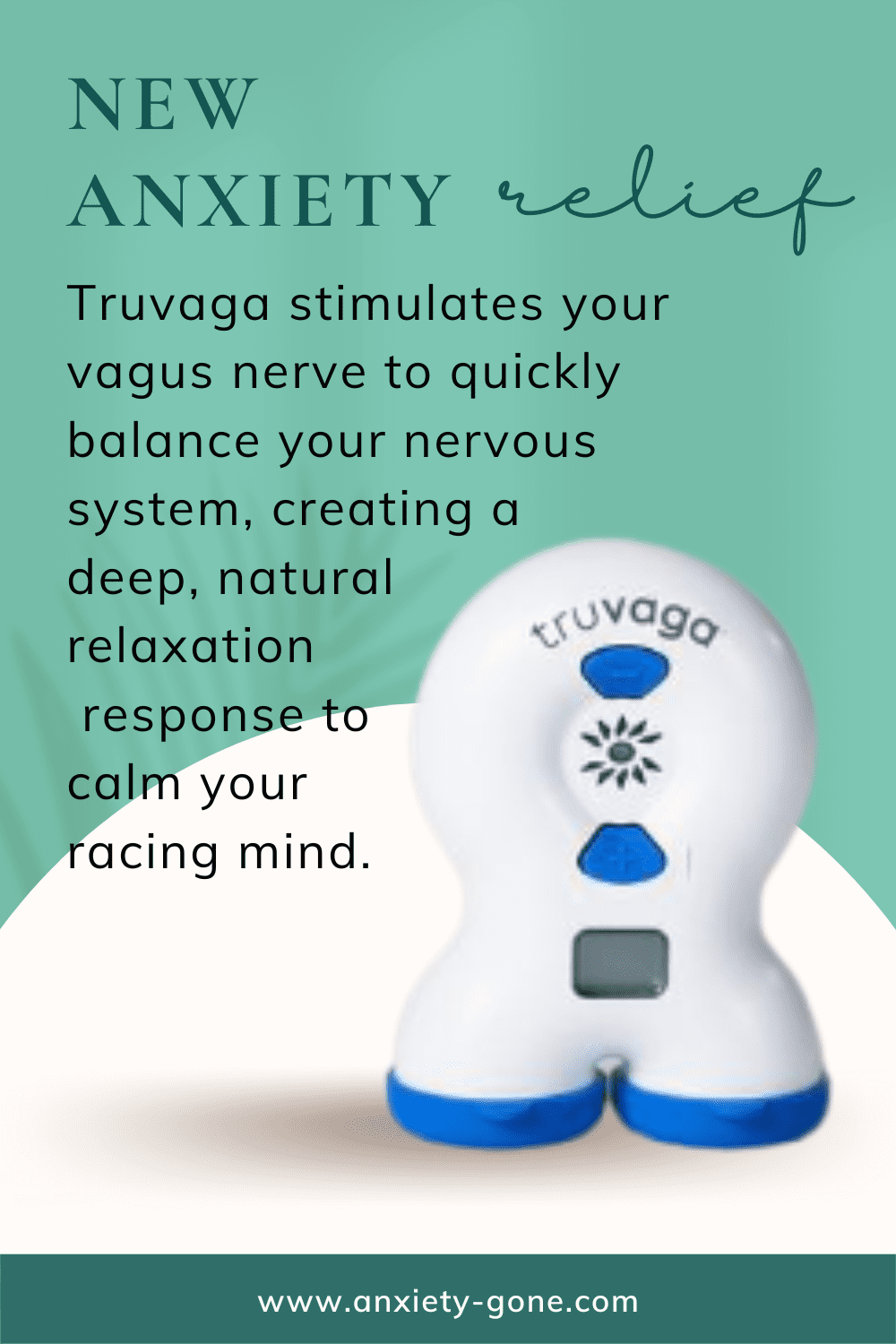 4. Massage
Grab your at-home massager, roll your foot along an acupressure roller or book a massage. Massage is one of the most effective stress management techniques you can explore to stimulate your vagus nerve. Its benefits go beyond physical well-being, as it also works wonders for your mental health.
Through massage, you can experience a reduction in stress levels, a decrease in the stress hormone cortisol, and significant relief of symptoms related to anxiety and depression. Additionally, it enhances circulation and lymphatic drainage, eases muscle tension, headaches, and body pain, while boosting both the immune system and digestion.
Reflexology—a type of massage that focuses on the feet—comes highly recommended, as over 7,000 nerve endings are located in your feet. Reflexology stimulates these nerves, enhancing their communication and activating the parasympathetic nervous system, leading to even deeper relaxation.
So, treat yourself to the soothing benefits of massage and consider using reflexology at home to specifically target the nerve endings in your feet. It's a delightful way to promote vagal stimulation and indulge in a well-deserved state of tranquility.
5. Cold Water Therapy
Whether it's taking a plunge into a cold lake or simply dipping your forehead into a bowl of cold water, cold water immersion is an excellent way to activate the vagus nerve. It can also help decrease your racing heart, which is particularly helpful during a panic attack.
6. Laugh More
Turn on your favourite funny movie or spend some time with friends and loved ones that always make you smile. Laughing truly is the best medicine. Not only will it stimulate your vagus nerve but it can also boost your mood and overall mental health and wellness in the meantime.
7. Exercise
Many of us are aware that exercise has the ability to trigger the release of those wonderful "feel good" hormones in our bodies. However, what you may not know is that exercise also has the added benefit of stimulating the vagus nerve. The key is to discover a form of movement that you genuinely enjoy, so it becomes a fun experience rather than a chore.
Take some time to experiment with various exercises and activities to find what resonates with you. Dance around your living room to your favorite songs or channel your inner child and grab a weighted jump rope to start harnessing the power of movement and to stimulate your vagus nerve.  Yoga is also an excellent option for a parasympathetic activation exercise that can have a huge improvement on your physical, emotional and mental health.
Buy Now: Weight Jump Rope Available on Anxiety Gone.
8. Go Out and Socialize
When stressed, many of us tend to self-isolate. However, doing so can intensify the stress, anxiety and depression as it can make you feel alone in your struggles. The good news: finding ways to connect with others and cultivate a sense of belonging can be a fantastic remedy to gain perspective and soothe your nervous system.
Make the effort to call a friend, plan a meet-up with family, or reach out to colleagues. Join a local group or even an online one, take a walk or head to your favourite cafe. Creating opportunities for meaningful conversations, shared experiences, and support networks can alleviate those negative feelings that have you feeling down in the dumps.
Remember, you are not alone in this journey, and there are people who care and are ready to lend an ear or offer a helping hand. So, take a step towards reconnecting and nurturing those connections that can bring comfort, understanding, and a renewed sense of belonging.
9. Take Probiotics to Improve Your Gut Health
According to research conducted by uOttawa, it has become evident that gut bacteria play a significant role in enhancing brain function through the activation of the vagus nerve.
10. Positive Self-Talk
By repeating positive affirmations, you can activate the vagus nerve while also harnessing the benefits of positive self-talk. Affirmations serve as reminders to summon courage and make positive choices that align with your goals. Whether it's to calm your anxiety or to cultivate bravery to continue trekking forward towards the fear, consistently reinforcing affirmations can increase your sense of courage and resilience, nurture a positive self-narrative.and strengthen your vagus nerve.
11. Focus on Food
The role of food in vagal stimulation is important, as the vagus nerve is intricately connected to digestion. By making mindful choices in your diet, you can effectively support and optimize the vagus nerve functions.While maintaining a healthy diet is essential for overall health and wellbeing, there are certain foods that are specifically great for stimulating the vagus nerve. Here are some suggestions:
Fiber: including fiber in your diet promotes the production of the GLP-1 hormone, which facilitates communication between the brain and the vagus nerve.
Seafood rich in EPA and DHA: fish such as salmon, herring, sardines and trout, can help with heart rate regulation and benefit the vagus nerve.
Zinc: a crucial element for proper vagus nerve function. If your diet falls short of zinc, consider taking a zinc supplement.
Intermittent fasting: following a pattern of eating and fasting has been found to have positive effects on vagus nerve functions.
Probiotics: a healthy probiotic can enhance gut health and optimize the functioning of the vagus nerve.
There are an abundance of options when it comes to activating your vagus nerve and maintaining a healthy vagal tone for optimal health and wellbeing. By stimulating the vagus nerve, you can send a message to your body that it's time to relax and de-stress, serving as your secret weapon for conquering anxiety and to becoming a better, more vibrant version of yourself.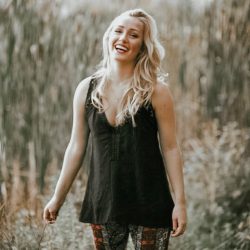 Latest posts by Chantal McCulligh
(see all)