When panic comes rushing in out of nowhere within seconds, you want to have quick and effective relaxation techniques for anxiety. While there are many incredible options out there, many take time to work. However, there is one powerful coping mechanism that can drastically improve your life quickly if you use it every night.
How to Overcome Anxiety with Relaxation Techniques
Learning how to overcome anxiety requires you to learn effective coping mechanisms that give you control during those anxious moments. By learning effective relaxation techniques for anxiety, you learn how to calm your symptoms when they appear. As a result, you begin to fear your triggers less as you know you can come out of those terrible attacks. And the less you fear your anxiety triggers, the less frequent and intense the anxiety attacks become. And that, my warriors, is the power of using relaxation techniques.
Self Hypnosis Anxiety Affirmations
Self hypnosis can be done by anyone at anytime. It's the process of reaching a relaxed state where your mind can begin to rewrite your subconscious. In other words, by using self hypnosis for anxiety, you can reprogram your anxious thoughts, beliefs, and triggers. One of my favourite ways to use self hypnosis for curing anxiety is to use anxiety affirmations. However, not all affirmations for anxiety are created equal but there is one anxiety mantra that has completely transformed many people's lives.
Émile Coué Relaxation Techniques
Émile Coué is a French psychologist and pharmacist from the early 1900's who become famous for his methods of psychotherapy and self-improvement by using optimistic autosuggestion. His methods have been used for over a thousand years and the anxiety mantra you learn today is so effective that it's a core part of hypnotherapy.
The Powerful Mantra for Anxiety
To use this incredible mantra for anxiety that can rewrite your brain, you only need 30 seconds each night. It's recommended to do this relaxation technique right before you slip into sleep. This allows for the mantra to rewrite your subconscious throughout the night. Overtime, this completely transforms your life while also helping you wake up positively each morning.
Now, it's imperative that you use this mantra – word for word. So, make sure you write it down. The anxiety mantra is…
Every day in every respect I get better and better.

Émile Coué
How to Do the Émile Coué Mantra for Anxiety
To begin using this relaxation technique for anxiety, you'll want to set aside a couple of seconds each night as you're laying down in bed. Then, you can begin.
Hold both hands up
Start with the right hand and right pinky
Repeat the anxiety affirmation and push your right pinky into the palm of your hand
Repeat with your right ring finger and push into the palm of your hand as you repeat the anxiety mantra
Continue doing this until all fingers on both hands are down and pushed into the palm of your hand
When you're finished with this relaxation technique, you'll have repeated the anxiety mantra 10 times – 1 for each finger. It's crucial to start with your right hand and right pinky and slowly work your way through your fingers – right to left. This is the power of Émile Coué's work.
Visualization Relaxation Techniques for Anxiety
To make this relaxation technique even more effective, you want to visualize yourself getting better and better each day. As you repeat the mantra for anxiety, close your eyes and visualize what that means to you. What does getting better look like to you? What does it smell like? Feel like? Get as detailed as you can. As you visualize yourself getting better and better while repeating this anxiety mantra, your brain begins to rewrite your subconscious mind. You start getting better and better, each and every day.
Affirmations for anxiety work in an incredible way where they rewrite your subconscious so that you begin to believe (and live by) the affirmative statement. Émile Coué's relaxation technique and methods for psychotherapy and self-improvement have been used for thousands of years because of how effective they are. Commit to repeating this mantra for anxiety for 2 weeks each night and I guarantee, you will start to get better and better. For more incredible techniques, calming items and tools for anxiety, subscribe to our mental health subscription box.
Learning how to overcome anxiety starts with understanding that your thoughts create your reality. If you are experiencing a crisis, please seek professional help from an anxiety therapist. There are amazing options out there for online counseling for anxiety with some even offering a 7-Day free trial for anxiety therapy.
---
This blog post is sponsored by BetterHelp, but all opinions are my own. I may receive compensation from BetterHelp or other sources if you purchase products or services through the links provided on this page.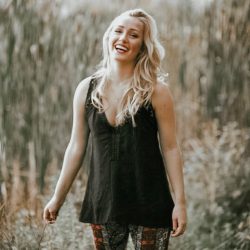 Latest posts by Chantal McCulligh
(see all)