Social anxiety is unlike any other type of anxiety. It's an irrational fear of interacting with other people and comes with constant worry, anxiety, feelings of self-consciousness and/or feeling liek you're being negatively judged and as a result, you avoid social situations. Makes sense, right? You fear something; you avoid it. But that's what's causing your social anxiety in the first place and that's what will prolong your mental illness and even worsen the situation. So, you must learn how to break out of your shell in order to overcome social anxiety.
How to Break Out of Your Shell in 13 Simple Steps
The following tips on how to break out of your shell might be simple but to someone controlled by social anxiety, doing something as simple as walking into a quiet room can seem unbearable. So, take your time. You won't overcome shyness and social anxiety overnight and you will feel slightly intimidated to put these tips into action. The key is to keep trying and to keep pushing your boundary. Don't give yourself a hard time if you can't do something. Just shake it off and try to break out of your shell again.
1. Practice Talking in Front of the Mirror
The first thing to do when learning how to break out of your shell is to learn how to talk. Believe it or not, you already do this just fine. Even if you're incredibly shy, there's nothing wrong with that – from the perspective of other people. You are the one who feels uncomfortable by the way you're speaking and as I always say, "If you aren't happy with something, change it."
Make it your mission to practice talking in front of the mirror daily, especially before a fearful event, such as a class presentation, first date or – God forbid – a speech in front of hundreds of people. Not there yet? That's fine. Just stick to the mirror.
Talking in front of the mirror allows you to pinpoint areas in which you need to improve. It could be something that has to do with eye contract, or the way you hunch your shoulders, the way you fidget with your fingers, etc. The key is to notice what you think inhibits your social skills and practice changing them.
2. Set a Goal Each Day and Try to Achieve It
The only way to overcome anything is to work towards it. You've been saying all this time that you hate how shy you are but have you really made it your goal to overcome it? Yes? Okay, so what have you done? Exactly.
We all do it. We all want change but rarely dedicate our time and energy to achieving it. So, set a goal for yourself each day and actually try to reach it. Your daily goal could be as simple as getting out in public and to a social gathering once a week or giving someone a compliment once a day.
Choose daily social anxiety goals that suit you. If you fail one day, don't worry. Channel your inner T-Swift and shake it off; pick yourself up and try again. As you start to tackle these goals, you can slowly increase the difficulty. Who knows; today you might be opening the door for someone and tomorrow you could be hosting the biggest block party of the year. #Goals. Seriously, the possibilities are endless once you started breaking down those barriers.
3. Video Record Yourself Having a Conversation
Record yourself having a conversation. Set up your iPhone or turn on your webcam and have a conversation. A Skype convo will work, as will a phone conversation, especially if it's a social anxiety struggle of yours. If not, make sure the conversation you record is a face-to-face interaction. No, your dog doesn't count.
Once you record the conversation, play it back and like the mirror tip, take note of the things you wish to change, such as wandering eyes or fidgeting fingers.
4. Make a List of What Makes You Unique
I can tell you all the tips in the world on how to break out of your shell but if you don't know who you are, it'll never work. You have to know what make you special; what makes you loveable, admirable, a great friend, a great son or daughter, aunt, uncle, parent – whatever. It's crucial that you're aware of what you bring to the table. So, make a list of the features, traits and attributes you love about yourself. Quickly, you'll see that being shy is nothing compared to everything else you have to offer.
More importantly, making a list of things you love about yourself allows you to own it!
5. Pin Point your Power Poses
Body language is one of the most important things you can learn when trying to break out of your shell, overcome social anxiety or channel your inner confidence. You can be the least confident person in the world but your body language can trick people into thinking otherwise, and the more you trick everyone else, the more you'll trick yourself into thinking it as well. Before you know it, you'll be like, "Wow! Holy hot damn. I killed that conversation."
Just say no to crossed arms!
There are several body language books you can study that will teach you how to master your power poses. Here are some of my personal favourites:

---

---

---
---
---
6. Make a List of What Causes you to Fear the Most
Coming out of your shell is as simple as recognizing what you fear. By doing so, you're able to see what goals need to be made in order to overcome your social anxiety. You will never do so if you aren't willing to accept and face what you're fearful of. So, make a list of the reasons why you believe you have social anxiety or what triggers you. It could be fear of judgement, fear of making a mistake, feeling inadequate, feeling stupid, etc. Everyone's list is different, so no cheating.
7. Make a List of Terrifying Social Engagements in Priority
Now that you know what fears are behind your fears, it's time to recognize which situations are most terrifying for you. For me, it's eating in front of people. For you, it might be walking into a crowded room. So, make a list of the social situations that you fear the most, and list them in priority from absolute sh!t my pants scared to scary but doable. 
Then, you can start to slowly tackle the social engagements that have been keeping you inside your shell for all this time. And I know, it sounds terrifying. It is scary and that's why you're going to start from the least scary engagements to the most scary.
8. Do Something Adventurous with People You Trust
Breaking out of your shell can be as simple as doing something completely new and exhilarating. This might be as simple as walking around the block for you or sleeping over at a friend's house. Whatever it is, be sure to do it with someone you trust. Having that support system allows you to face your fears more easily because you know you'll be safe. So, whether it's your sister or best friend, parents or cousin, inform them that you're trying to break out of your shell and would like them to help. Then, decide what you want to do (start small, of course) and before you know it, you'll be skydiving with strangers. Okay, maybe not quite. Let's start with small steps.
9. Use the Power of Affirmative Phrases
If there's one thing Anxiety Gone likes to preach, it's the power of affirmative phrases! The mind is such a powerful thing; you're just used to it being powerfully controlling and negative. Well, it's time to trick it into being powerfully positive and affirmative phrases can do just that.
And they're easy! Instead of saying, "Oh my gosh, I'm scared," you say, "I got this. I'm good". You say these strong, positive, encouraging phrases that strengthens you from the core instead of diminishing you from the inside out.
10. Meet New People – Online, Offline, on Mars – Whatever
Breaking out of your shell will require you to meet new people. Sounds terrifying, doesn't it? Don't worry. This is your recovery and you can choose the speed in which you want to combat your social anxiety. Even if you have all the friends you need, make it your mission to meet new people. Why? It'll get you comfortable with strangers.
So, get online and join a forum, spark a conversation with a complete stranger in a chatroom, say hi to the stranger holding the door for you at Tim Hortons – whatever it is, just meet new people. You don't have to have a long conversation; just enough that it's an actual conversation.
And who knows? You might make a new best friend out of it. If not, shake it off. At least you made the effort to meet new people.
11. Join a Group
Personally, I love groups because everyone is there for the same reason – to meet new people and to do something they love. So, determine what you'd like to do more of or what you'd like to learn, and search for local groups. It could be an art class (PaintNite rocks!) or a book club, travel club, church club – you name it. RSVP as soon as you find something you like (don't hesitate or you'll never do it), then show up (no excuses) and have fun.
12. Makeover Time
Do something that will make you feel better about yourself. The end.
Channeling you inner confidence can be as simple as updating your wardrobe, doing your makeup, getting your hair done, treating yourself to a spa date (The Rock Spa is a personal favourite), etc. It's a simple social anxiety tip but one that is surprisingly more powerful than you think.
13. Master your Emotions
The last social anxiety tip of the day is to master your emotions. Learn to recognize what you're feeling – from your emotions to body sensations and beyond. This allows you to instantly correct any negatively thoughts you have. "Oh no. My hands are sweating. Retreat. Retreat. Abort mission!"
Instead, you can say, "My palms are sweaty because it's hot in here and you know what, who cares if my palms are sweaty. I'll just dry them off before shaking hands and if they're still sweaty, I'll make a joke about it."
Yoga is an incredible way to become familiar with your feelings and to increase self-awareness. I highly recommend Yoga Burn or Yoga for Healing.
That's all you need to know to overcoming shyness and tackling your social anxiety but of course, I always have much more to talk about, along with additional tips and tricks of coming out of your shell. So, don't forget to subscribe to Anxiety Gone newsletter and join me on Anxiety Gone Facebook.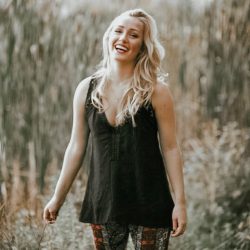 Latest posts by Chantal McCulligh
(see all)