Anxiety attacks can make you feel hot – and not in the way you want. A common symptom of anxiety is hot flashes. This is when your body temperature instantly rushes from your head to your toe. You start sweating profusely, which only makes you more anxious. For some people, these hot flashes occur at night (night sweats) and for others, they are a main anxiety symptom. Other times, anxiety can be brought on when it's super hot outside. So, I've put together the ultimate list of stress relief items that'll chill you out!
9 Stress Relief Items Every One Needs for a Calm Lifestyle
So, here's the tea. Our summer anxiety relief gift box (subscription box) was all about using the great outdoors to harness all of the therapeutic properties it offers. And since it's summer, it only made sense to add in stress relief items that keep you calm, cool and collected. So, if you missed our calm box for summer, here are the calming items you can still get online at The Anxiety Gone store.
Portable Water Bottle Keeps You Hydrated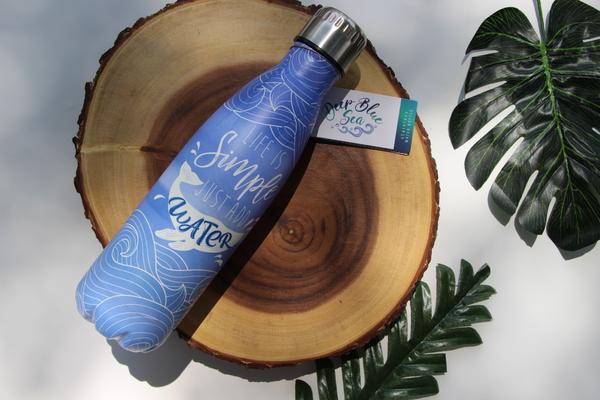 I have a million reasons why you need to have water with you at all times to keep you hydrated. Water is imperative for your mental health, and it is a great stress relief item when you're feeling stressed. I could go on and on about how hydration is crucial for anxiety relief, but we would be here all day. Here's a crash course:
Ensures you always have water to stay hydrated
Taking sips of water can help decrease choking sensations when having anxiety
Drinking water can decrease dry mouth, which can come with an anxiety attack
Stay cool throughout the day
Clear your conscious and reduce your carbon footprint (ain't nobody got time for plastic anymore)
Our summer anxiety box included the most adorable portable water bottles. They're large enough to store a decent amount of water, yet small enough to slip into your purse or to carry around with you. They're currently on sale – get 2 for the price of 1. So, snag those up while you can.
Hand Sanitizing Spray Because COVID19
Since we're currently going through a pandemic and everyone's anxiety is high anytime they leave their house, hand sanitizer is a must. I never leave my house without it and if there's anything COVID19 has taught us, it's that we come into way too many germs throughout the day.
Our Anxiety Chill mental health gift box included a bottle of Oximist Hand Sanitizing Spray. It's powerful yet gentle and made right here in good ole' Ontario. This helps to:
Calm your COVID19 anxiety
Ease anxiety while venturing out in public
Keep yourself clean and your health germ-free
Mother Earth Essential Oil Brings the Outdoors In
There will always be summer days where the weather doesn't work in your favour or when you simply don't feel like going outside. This is when Mother Earth essential oil will come in to save the day. It's a beautiful scent that offers the soothing scents of the great outdoors. Add a couple drops into an oil melter or diffuser and fill your home with therapeutic scents. This helps to:
Create a calming space
Gives you aromatherapy benefits
Brings therapeutic scents from outdoors in
Morning Sunshine Roller For a Good Start to Your Day
Not a morning person? Me either! However, the way you start your morning drastically dictates how the rest of your day will go. So, it's super important to treat yourself to a little pick-me-up as soon as you wake up; this essential oil roller for anxiety is perfect. It's from Jubel Naturals, a Canadian essential oil company with a simple mission to provide the highest quality natural products at an affordable and accessible price. "Jubel" is the Germanic language origin for the English word "jubilant", and Jubel Naturals promotes the idea of living a more jubilant life. LOVE IT!  As for the incredible anxiety essential oil roller that was one of the top stress relief items in our summer anxiety gift box, here's how it will help:
Energizing blend uplifts your mind, body and spirit
Stimulates your senses to release mental fatigue and morning blues
Pine essential oil helps to promote clarity, ease mental stresses, strengthen attentiveness, and improve memory
Neroli essential oil helps reduce stress, anxiety, and anxiety-induced depression.
Oils, such as Neroli, can help the brain release serotonin, and reduce levels of cortisol (stress hormone)
White Grapefruit essential oil offers many calming and anti-anxiety effects
So, this is definitely an essential oil blend you'll want in your anxiety toolkit.
Psst: Jubel Naturals is a sister-company to Scentuals and you can get

20% off at Scentuals.com with code 'AnxietyGone20'
Amethyst Magnetic Therapy Bracelet (Set of 2)
When it comes to crystal healing and crystals for anxiety, amethyst is a must. It's a great stone that helps calm and relax the nerves. The energy also helps nourish the nervous system, so you can dive deeper into a more relaxed state.  And thats only to name a few benefits of amethyst for anxiety. But that's not all. These beautiful amethyst beaded bracelets also have magnetic hematite, which has been used for thousands of years to treat all kinds of physical, emotional and mental health concerns. With our summer calm box, you get two amethyst bracelets that connect together, making them a great his and her bracelet or best friend bracelet. As for your anxiety, it can:
Nourish the nervous system
Something to fidget with and distract your mind
Calm and relax your nerves
Induce a relaxed state of mind
Soothe various physical, emotional and mental health concerns
Summer Blank Journal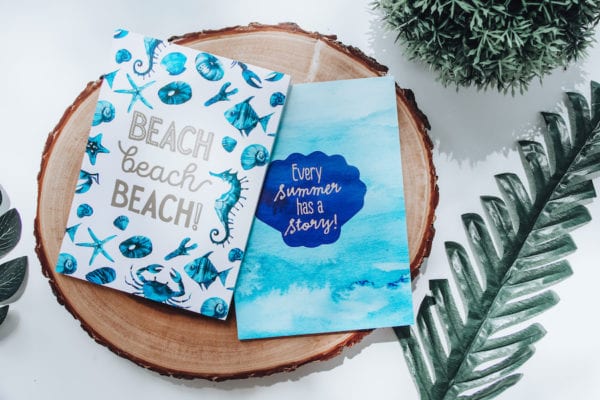 Journaling is an important part of learning how to overcome anxiety… Or anything, really. It's a therapeutic activity that allows you to release whatever it is you want in whatever way that best serves you. It does not have to consist of a Dear Diary structure, nor do you even need to use sentences to journal. Your journal entry can be one word if that works for you. Even as a writer, I sometimes find myself just jotting down words associated with my thoughts and feelings – no grammar, no punctuation, no sentence, no structure.
Some journaling doesn't even involve writing. So, even if you aren't "a writer" or don't resonate with writing, there are options for you. Here are the best types of journaling for anxiety:
Visual Journaling

Gratitude Journaling
Intuition Journaling
Musical Journaling
Unsent Letter Journaling (Amazing for healing trauma)
Dream Journaling
Goal Journaling
Meditation Journaling
Mood Journaling
You can currently grab these adorable journals – get two for the price of one!
Citronella Aromatherapy Wipes For Stress-Free Fun Outdoors
We all know nature is important for mental health, but you know what isn't? Bugs! There's nothing like enjoying the great outdoors, only to have bugs taking chunks out of you. This can quickly turn a stress-free activity into a stressful (and painful) one. So, we had to put some Citronella Aromatherapy Wipes into our summer anxiety box.  Here's how they help:
Avoid getting ticked off (see what I did there?)
Enjoy nature without getting bugged
Peppermint essential oil can reduce feelings of frustration, anxiety, and fatigue
Bergamot essential oil helps relieve anxiety and improve mood
Citronella essential oil keeps the bugs away, and eases and uplifts negative feelings, such as sadness and anxiety
Even once summer is done, you'll want a pack of these aromatherapy wipes in your purse or backpack. They're great for anxiety relief.
Personal Atomizer To Soothe Hot Flashes
If you don't have one of these stress relief items, it's time to change that. These personal Atomizers changed my life. I knew they would be good, but they're great. I am obsessed and find myself using them all the day, errrr day. But why? These calming items emit a soothing, flawless mist of cool water to your pulse points, head, body, wherever you choose. It immediately cools you down, making it a powerful tool for people experiencing hot flashes, night sweats or anxiety brought on by the heat. Even if you don't have anxiety, these personal atomizers are amazing for keeping you cool (a lot of golfer friends have been all over these). Here's how they can help you:
Cool down in the midst of a panic attack
Prevent overheating that can cause increased anxiety
Stay cool throughout the day
Soothe night sweats
Ease hot flashes
When you get our anxiety relief gift boxes, you also receive a guide that teaches you extra tips, coping mechanisms and techniques. Our summer anxiety calm box included a Nature Wellness Guide, which broke down the importance of hydration, scientific studies on how nature helps mental health, summer wellness bingo, this or that challenge, and more.
So, don't miss out on the next one. Start your anxiety box subscription today and get 30% off. And remember, you don't have to do this alone. There is nothing wrong with seeking professional help to overcome and heal whatever it is you're going through. It is okay and you deserve to get the help, support and professional guidance you need. If that means seeing a therapist online, then definitely take advantage of the opportunity.
---
This blog post is sponsored by BetterHelp, but all opinions are my own. I may receive compensation from BetterHelp or other sources if you purchase products or services through the links provided on this page.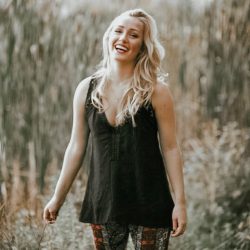 Latest posts by Chantal McCulligh
(see all)