Ever find yourself tossing and turning, counting down the hours until the alarm goes off, only to feel stressed out and groggy the next day? If so, you're not alone. There are many people who can't sleep at night, especially if they also struggle with anxiety. The good news: there are all kinds of natural sleep strategies s to help you achieve your best night's sleep ever!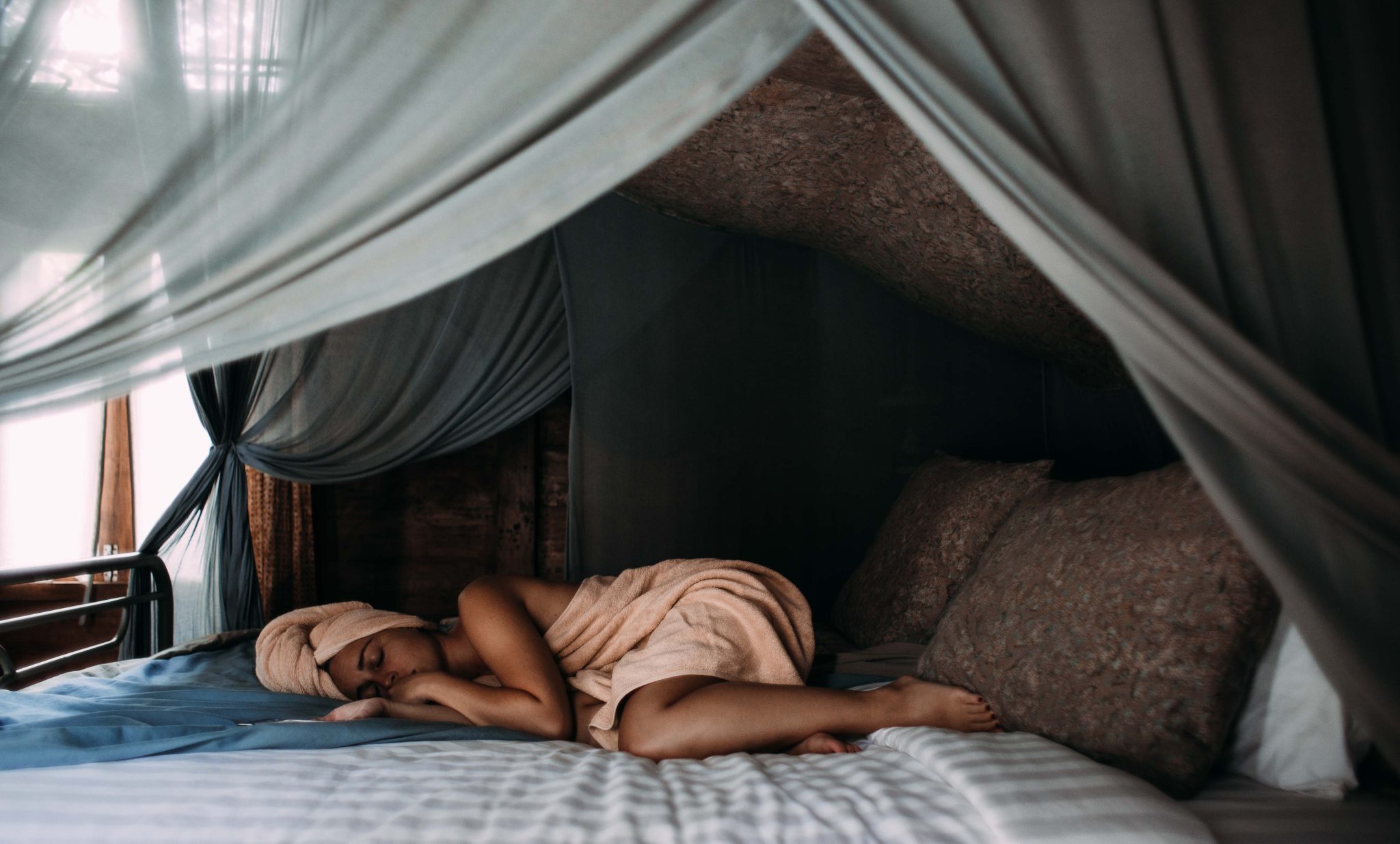 Strategies For When You Can't Sleep
Whether it's due to stress, anxiety, or an overactive mind, we've all experienced those restless nights. However, there's no need to resign yourself to hours of frustration. In this guide, we'll explore a range of effective strategies designed to help you find solace in the embrace of restful slumber. From mindful relaxation techniques to natural remedies, you'll discover actionable steps to navigate those nights when sleep seems elusive.
Here's a quick sneak peek at our top recommendations for when you can't sleep:
Tip #1: Create a Soothing Bedtime Routine
In the hustle and bustle of daily life, it's easy to overlook the significance of a calming pre-sleep routine. Yet, this simple practice can be a game-changer for your sleep quality. By engaging in activities like reading, you transport your mind to a different world, away from the stresses of the day.
Gentle stretches release any physical tension, allowing your body to settle comfortably into the bed. And when you incorporate deep breathing exercises, you initiate a powerful relaxation response, slowing your heart rate and easing your mind. This trifecta of calming rituals sends a clear signal to your body that it's time to wind down, setting the stage for a truly restful sleep.
So, whether it's a few pages of a good self-help book, a series of gentle stretches, or a few moments of focused breathing, investing this time in yourself is a small yet powerful step towards achieving the sleep you deserve.
Tip #2: Embrace the Power of Nature
In the modern, indoor-centric world, it's easy to inadvertently disconnect from one of nature's most potent sleep regulators: natural light. Exposing yourself to daylight during the day is a vital strategy for harmonizing your internal clock, which in turn, facilitates a smoother transition into restful slumber at night. So, make it a point to step outside, even if just for a few minutes. Feel the warmth of the sun on your skin, breathe in the fresh air, and let the natural light work its magic. Open your curtains wide and allow sunlight to flood your living spaces, uplifting your mood and signaling to your body that it's time to be alert and awake during the day.
And if, for whatever reason, you find it challenging to access natural sunlight, consider a SAD (Seasonal Affective Disorder) light. Sitting in front of this specialized light in the morning can replicate the effects of natural light exposure, helping to regulate your circadian rhythm and boost your mood. It's a particularly valuable tool for those who grapple with the seasonal blues, ensuring that your body's internal clock remains finely-tuned year-round.
Tip #3: Limit Screen Time Before Bed
It's easy to find ourselves glued to screens well into the night. However, this habit can significantly impact the quality of our sleep. The culprit? Blue light – the artificial glow emitted by screens. This type of light disrupts the production of melatonin, the sleep-inducing hormone your body relies on. To safeguard your sleep, make it a priority to disconnect from screens at least an hour before bedtime. Instead, consider engaging in activities that promote relaxation, such as reading a book, meditating, or enjoying a calming herbal tea.
If avoiding screens altogether proves challenging, you can opt for a simple yet effective solution: blue light filters. These ingenious tools help mitigate the impact of screen time on your sleep quality. By applying this filter to your devices, you can continue to use them without the disruptive effects of blue light. This small adjustment can make a significant difference in your ability to wind down and prepare your body for a restful night's sleep.
Tip #4: Mindful Meditation for Inner Peace
Finding moments of tranquility can seem like a distant dream. Yet, with mindful meditation, you hold the key to unlocking inner peace and paving the way for restful slumber. This practice involves consciously immersing yourself in the present moment, letting go of stressors, and soothing the mind. By engaging in mindful meditation, you create a mental sanctuary, a space where worries melt away, and calmness prevails. This transition into a serene mental state makes it significantly easier to slip into a profound, rejuvenating sleep.
The beauty of mindful meditation lies in its accessibility. Even dedicating just a few minutes each day to this practice can yield remarkable results. It's not about carving out hours of your day, but rather about embracing the power of the present moment. Whether you're a seasoned meditator or just starting out, these moments of introspection can be a cornerstone in your quest for better sleep.
Tip #5: Exercise for Improved Sleep Quality
The benefits of regular physical activity extend far beyond the realm of physical fitness. Engaging in exercise is a powerful tool for enhancing the quality of your sleep. Studies have shown that incorporating movement into your daily routine can lead to more restful nights and improved sleep patterns. Striving for at least 30 minutes of moderate exercise most days of the week can significantly impact your sleep quality.
It's important to note that exercise need not be an exhausting endeavor; even a brisk walk can work wonders for your sleep. The key lies in finding activities that you enjoy and can seamlessly integrate into your lifestyle. Whether it's dancing, cycling, yoga, or a brisk stroll through nature, the important thing is to move your body regularly. Not only will this positively affect your physical health, but it will also pave the way for more revitalizing and rejuvenating sleep.
Tip #6: Create a Comfortable Sleep Environment
The foundation of a good night's sleep begins with the environment you cultivate in your bedroom. It's imperative to transform this space into a sanctuary that encourages rest and rejuvenation. Start by ensuring the temperature is just right—keeping it cool sets the stage for optimal sleep. Embrace darkness as your ally; invest in blackout curtains to shield against intrusive light that can disrupt your sleep patterns.
Equally crucial is minimizing noise. A quiet atmosphere is conducive to deep, uninterrupted sleep. Consider employing techniques like white noise machines or earplugs if external sounds are a challenge. Additionally, don't underestimate the significance of your sleep surface. A comfortable mattress and supportive pillows are essential to prevent discomfort and ensure your body is properly aligned.
Take the time to select bedding that caters to your specific needs, be it a plush mattress for added softness or one designed for firm support. Remember, your bedroom should be a haven where you can unwind and find solace in the embrace of comfort.
Tip #7: Establish Consistent Sleep Patterns
Consistency is your key when you can't sleep. Setting regular bedtime and wake-up routines is akin to programming your body's internal clock. This simple yet powerful practice helps synchronize your natural sleep-wake cycle, ensuring your body knows when it's time to rest and when it's time to rise.
By adhering to a consistent sleep schedule, you empower your body to experience the full spectrum of restorative sleep stages. It's not just about the quantity of sleep, but the quality too. This regularity grants your body the opportunity to fully engage in the vital processes of restoration, rejuvenation, and mental clarity that occur during the night.
Establishing a sleep routine isn't just about when you go to bed, but also when you wake up. This consistent pattern sets the foundation for a balanced and energized start to each day. So, whether it's a weekday or the weekend, strive to maintain your sleep schedule. Your body will thank you with nights of refreshing, high-quality sleep.
Tip #8:Embrace the Power of a "Brain Dump" Before Bed
Our minds often become repositories of endless thoughts, anxieties, worries, and to-do lists. This mental clutter can be a significant obstacle to a peaceful night's sleep. That's where the practice of a "brain dump" comes in. It's a simple yet profoundly effective ritual of journaling before bedtime. By putting pen to paper, you allow yourself the freedom to release the thoughts that might otherwise swirl and fester in your mind. This act of externalizing your concerns provides a sense of closure, easing anxieties and creating mental space for tranquility. It's a powerful tool for unwinding, allowing you to approach sleep with a clear and unburdened mind, ready to embrace restful slumber.
Tip #9: Address Any Sleep Disruptive Behaviours
Identifying and addressing sleep-disruptive behaviors is a crucial step towards reclaiming your nights of restful slumber. These behaviors can range from late-night caffeine consumption to irregular sleep schedules, snoring, you name it. Take a moment to reflect on your habits and consider how they may be impacting your ability to fall asleep and stay asleep. By consciously recognizing and rectifying these disruptive patterns, you take a proactive step towards nurturing a healthy sleep routine. Whether it's cutting back on caffeine, establishing a regular bedtime, or creating a calming pre-sleep routine, addressing these behaviors empowers you to reclaim the quality of sleep you deserve.
Tip #10: Take Advantage of Natural Sleep Aids
There are all kinds of gentle sleep aids that can work wonders in promoting restful slumber. From calming herbal teas like chamomile and valerian root to the soothing scents of lavender and bergamot, incorporating these natural remedies into your bedtime routine can be a game-changer. Consider exploring the benefits of melatonin-rich foods like cherries or incorporating magnesium-rich options like almonds and spinach into your evening snacks. These natural sleep aids gently coax your body into a state of relaxation, paving the way for a night of deep, uninterrupted sleep. By harnessing the power of nature, you're not only ensuring a more tranquil bedtime routine but also setting the stage for a rejuvenated and refreshed morning.
Remember, finding what works best for you when you can't sleep may involve a bit of trial and error. Patience and persistence are key. So, the next time sleep proves elusive, consider these strategies as your arsenal of tools to combat insomnia, sleep anxiety or other related issues. Whether it's through mindful meditation, natural sleep aids, or creating a calming bedtime routine, you have the power to take charge of your sleep patterns. By embracing these calming techniques, you're not just addressing the immediate challenge of sleeplessness; you're nurturing a foundation for better sleep habits in the long run. Here's to peaceful nights and refreshed mornings ahead!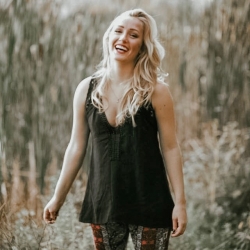 Latest posts by Chantal McCulligh
(see all)