In every way imaginable, I understand how the suicide option seems like the only way to get the pain to stop. That's the power of this mental illness. Depression can make you think, see, believe and even hear things that aren't exactly how they really are. There's a dark, storm cloud hovering over your mind and every thought, opinion, and emotion gets zapped with lightning before you even process it. Everything seems bad.
But it's a trick. It's the depression taking ahold of your mind, body, and soul. It doesn't have to be that way. There are many alternatives to suicide and the best part is that they'll keep you here on earth. Now, I know what your depression is making you think, "I don't want to live anymore." You do. Don't let that demon trick you into thinking otherwise. You're just looking for a solution.
More importantly, suicide is not a solution. It's permanent. There is no living on afterwards. To show you that you can feel better, you can live a quality life, you can beat depression and you can continue living without the awful pain you've been experiencing, I've created a list of 39 things to do instead of committing suicide.
Don't believe me? You have nothing to lose. Even if you have your mindset on committing suicide, there's no harm in trying these first.
39 Things You Can Do Instead of Suicide Option
Cognitive behavioural therapy
Start the Step-By-Step Cognitive Therapy Book
Dialectical behavioural therapy
Read the 8 Week Program to Freeing Depression
Psychotherapy
Counseling
Call a friend
Antidepressants
Listen to music that makes you happy
Talk to a parent
Look in the mirror and force out a smile
Rehabilitation centers
Reach out to a teacher
Call the National Suicide Prevention Lifeline at 1-800-273-8255 (TTY:1-800-799-4TTY)
Speak with your school counselor
Go for a walk
Send anonymous email to The Good Samaritans organization
Work through The Depression: Guide to Living Workbook
Talk to a friend's parent you trust
Grab some self help books
Go over your Suicide Prevention Checklist
Divert your mind by doing something you enjoy
Write about the way you're feeling
Call 9-11
The suicide option might seem like the best one at this time. However, this time – this moment – it'll pass but it's up to you to make that happen. These 39 things to do instead of committing suicide will steer you on the path to healing. You don't have to die, and you know you don't really want to die. You just want this pain to go away and it can.
The suicide option is a final answer. It's not a temporary solution.
Reach out for help today! There are many suicide alternatives that are waiting to give you the life and happiness you're so desperately seeking for. Online therapy is a great option that you can do from your phone.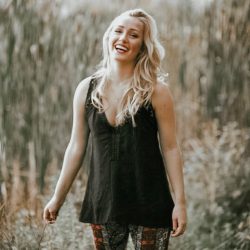 Latest posts by Chantal McCulligh
(see all)