Despite the Christmas movies, commercials and songs making the holidays seem like the best time of years, they can actually be quite unbearable for many people. The holidays can be lonely, nerve-racking, financially stressful and overwhelmingly busy, all of which don't work wonders for anxiety. But like most things in life, there are many ways to deal with holiday anxiety to make it a little (or a lot) more bearable. 
Ways to Deal with Holiday Anxiety
Let's jump right into the incredible ways to deal with holiday anxiety. Pick a couple that appeal to you and practice a handful of these techniques daily until the holidays have passed and your increased anxiety has surpassed. 
Wake Up and Meditate
I know it sounds ridiculous that finding a quiet space to close your eyes and breathe can help decrease holiday anxiety and winter depression but it works. Your breathe is directly linked to your nervous system and when done properly, you can instantly alleviate those terrible feelings. Not only that but meditation helps to calm and relax your mind and body, which allows you to recollect yourself each morning. So, instead of letting every day pile up on you, meditation allows you to let it go. The pile may always be there but it won't be as big. 
I highly recommend using the Calm app, as it's a personal favourite for beginners who have a hard time sitting still or meditating. 7 Minute Mindfulness is also one of my favourite online programs for anxiety warriors, as it's designed specifically to train your brain activate your body's natural calming response. 
For anyone who wants to truly learn how to breathe to tap into calmness whenever they need, The Power of Calm is my #1 recommendation. It trains you how to utilize your breathe to overcome stress and anxiety, and it's all done online and on their app during a 14-day period.
Use code AG519 for an additional 5% off!
Repeat Calming Affirmations Every Day
Whether you're doing an online affirmation program or pulling an Affirmators! card every morning, affirmations are a powerful way to calm your holiday anxiety – or any anxiety for that matter. By repeating positive sayings, you can essentially train your brain to believe what you're telling it. 
I recently stumbled across a new online program called Mind Zoom, which is a system you download right onto your computer. The program is designed to speak directly to your subconscious mind through images, music and sound, and it's used in over 140 countries. It also comes with a 60 Day Money Back Guarantee which is nice. 
Our health, wellness and calm box for anxiety often comes with affirmations as well, whether a handful to use for the week or a full set of one of the best affirmation decks, like the Affirmators!
Say No to Traditions That Aren't Good For You
One of the biggest triggers for holiday anxiety is feeling like you have to do all of these things; you have to go to dinner at this person's house and you have to go watch the school play and see the local festivities and drink hot cocoa. However, if the idea of doing these traditions makes your anxiety spike feel free to say no. You do not have to do anything that makes you feel unwell and the people close to you should understand that. 
Though, I do highly recommend thinking about why you don't want to do the traditions prior to saying no. Your anxiety can make you bail on plans and cancel traditions simply because you don't want to face the fear. You don't want to feel the anxiety attack so you avoid what triggers it. This can be really bad for your recovery. You have to do things that your anxiety doesn't want you to do. So, make sure you know the difference between holiday traditions that are toxic and negative for you and holiday traditions your anxiety wants you to avoid. 
These traditions don't even have to be a big deal. Every year, I go to my sisters on Friday night for Christmas movie night. I have not yet gone this year, not because of my anxiety but because I am so busy that adding another thing onto my to-do list would be too overwhelming. 
Take Time to Destress
If you don't take time to destress and self care, everything keeps piling up as I mentioned previously. So, some of the best ways to deal with holiday anxiety is to simply take care of yourself – your mind, body, and spirit. 
Take a long, warm bath at night and read a book; light some candles and hang out on the couch, and go for a walk on a warm winter night. Go for a massage or head to local cafe to decompress. Do something that helps you let go of reality, even if it's just for a moment. 
For me, I like to turn on my meditation music and do puzzles on my iPad. It's one thing that allows my mind to completely shut off and it has saved me from some serious melt downs. 
Remember Your Breathing Techniques
As an anxiety warrior, you can never have too many breathing techniques. These are the best ways to deal with holiday stress and you can do them anytime you feel your anxiety peaking. So, make sure you have practice and memorized helpful breathing techniques and if not, write down the steps and use them when needed.
Remember, you can go sit in your car and breathe if you need to and you you escape to the bathroom or another room to take a moment to yourself. Give yourself permission to leave anxious situations to practice your breathing techniques, and you'll come back feeling better than ever. 
Know Your Triggers
An excellent way to deal with holiday stress is to recognize your triggers. Perhaps you know a certain family member's intruding questions set you off or maybe having a jam-packed schedule sends your anxiety into a tailspin. Recognize that and make a plan on how you'll overcome that trigger. 
For some triggers, you may find that you can avoid them altogether such as a toxic family member. Sure, you may have to be in the same room as them but you do not have to engage in conversation. You are allowed to choose where you invest your time and energy.
For other triggers, such as an overwhelming schedule, grab a planner and write everything down so you can be better prepared for each activity. If you run out of space to write in your daily tasks, perhaps it's time to cancel something and take time for yourself. 
Find the Good and Practice Gratitude
Remember, the holidays aren't all bad. In fact, the only thing negative things about the holidays is what we allow to be bad. You always have a choice – you have a choice as to how busy you are; how much money you spend, how you spend your time and who you spend the holidays with. People may not always like your choices but they are yours and you have every right to make decisions that you feel are best for your mental health.
Practicing gratitude is an excellent way to deal with holiday anxiety, as it trains your mind to find the good in everything. Start by listing 5 things you're grateful for each day, such as:
I am grateful for my job, so I can buy gifts for my loved ones. 
I am grateful for my exciting and screaming children, as they make Christmas that much better. 
I am grateful for my toxic friend, as it allowed me to see where I need to make changes in my life. 
I am grateful for my car breaking down in the dead of winter because it gave me an opportunity to try out local transportation. 
Yes, these things sound silly but you are essentially telling your brain that the bad things are actually good and that positive energy carries on throughout the rest of your day and life as a whole.  
Write It Down
At the end of a stressful day, write down how you're feeling. It doesn't have to be sentences; it doesn't even have to be legible. You just have to let it out. Bullet journals are amazing for jotting down your feelings, whether it's in short sentences or doodles, pictures or graphs. Get Happy Stay Happy, a journal from our anxiety calm box is also a great way to learn how to bring gratitude and mindfulness into each day.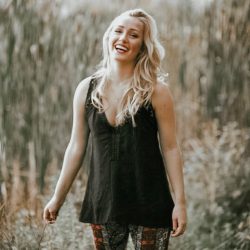 Latest posts by Chantal McCulligh
(see all)