When you have a panic attack, the first thing you need to do is determine what you can change to improve your mental health. Looking at your life from an outside perspective isn't always the easiest task so I've created this list of things to change to decrease anxiety and panic attacks.
13 Changes to Make to Decrease Anxiety and Panic Attacks
Some of the following things to change to decrease anxiety and panic attacks will be easy, others will take time, patience and even practice. But it all comes down to whether or not you have had enough of your mental illness and are ready to make a change. If you are, these are the things to start knocking off your list:
— Start Meditating
You've heard it a million times before and that's because meditation can and will improve your life. Personally, I wasn't a fan of meditation and even today, I never want to do it. It isn't something I enjoy but the effects it has on my mental health is something I enjoy and that's why I do it. So yes, adding meditation into your day is one of the first things to change to decrease anxiety.
Start with a 10 minute meditation with the Calm app. As you progress and begin to experience the benefits of meditation for mental health (it can decrease anxiety by up to 50%), you can start deeper meditation sessions to maximize the effects.
— Decrease Caffeine
Whether you're a pop-lover or prefer to fill your mornings with a jolt of java, make it a goal to stop. Caffeine is a natural stimulant and it is really bad for people with anxiety.
Slowly tapper off of your caffeinated beverages by ordering a smaller cup size each morning at Tim Hortons or pouring one less cup than what you usually do.
Eventually, switch to decaf or eliminate caffeine altogether. It will make a huge difference.
— Improve Your Bedtime Routine
The quality of sleep you get each night determines how you function the following day. Thus, a poor sleep can result in poor mental health – or worse, increased anxiety. So, instead of plopping into bed after midnight without any routine, this is one of the things to change to decrease anxiety. Consider following my anti-anxiety bedtime routine which I swear by. In fact, when I skip a step or two, I notice a major difference – and not the good kind.
If my anti-anxiety bedtime routine doesn't work for you, create your own by following similar steps.
— Eliminate The Bad Things From Your Diet
Take a look at your diet and ask yourself what can change. Perhaps you eat too many unhealthy carbs, such as potato chips, french fries, white bread, etc. or maybe you eat a lot of sweets, eat way too many preservatives, toxins and chemicals or perhaps you simply don't get enough greens in your diet. As the saying goes, you are what you eat. Adopting a cleaner diet can make a huge difference in your overall health – mental, physical and spiritual.
— Get 20 Minutes of Daily Activity
One of the easiest yet greatest things to change to decrease anxiety is to move more. You don't have to get a gym membership or pay a large amount of money for exercise equipment, you just have to get up and move a little bit more.
Perhaps it's walking to your mailbox and then around the block or maybe it's doing yoga for 20 minutes each day. Whatever it is, commit to getting at least 20 minutes of daily activity in. It will make a difference.
— Research Manifestation and the Law of Attraction
Give yourself some free time to learn more about the energies of the earth and how they affect your mental health. The Law of Attraction is all about using the world's energy to get what it is that you want from life, whether it's financial security, strength, less anxiety, etc.
These energies are being absorbed by you each and every day so might as well make them work for you. I highly suggest doing Manifest Miracle or Manifestation Magic, two of the best programs out there for manifesting what you want.
— Pick Some Healing Crystals for Anxiety
If you're into the energy of the earth and using it to your benefit, consider grabbing some healing crystals for anxiety. Like the earth, the stones and minerals that come from it have vibrations that can help you experience what it is that you want from life.
However, if you think healing crystals are all voodoo-y, you can skip over this step. Though, I will tell you a close friend of mine thought healing crystals were super weird. Then, she tried one out and she's now hooked on the energies of the earth, whether from the moon, healing crystals or just in general.
— Start Journaling
Pick up a journal and start writing. It can be a notebook with blank pages or a journal with specific prompts that guide you towards healing. Journaling is like therapy on paper. It's powerful and it works.
recently had the Get Happy Stay Happy journal in our anxiety subscription box and it was a hit. The prompts are spot on for improving your mental health. So, definitely add this book on the list of things to change to decrease anxiety and panic attacks, and to improve your mental health as a whole.
— Read a Self-Help Book
Never stop learning – it's the best anxiety tip I can give you. Pick up a book, whether it's a self-help book or continuing to read our Anxiety Gone blog, keep up with it. Doing this simple task will teach you all kinds of coping mechanisms, tools, techniques and tips, and you can never have too many tools to combating anxiety.
— Create Goals
Every morning, decide what it is that you're going to do. Perhaps it's just getting out of bed or maybe it's doing one thing you're afraid of. Whatever it is, write it down and commit to working towards achieving that goal.
Doing this little thing can increase feelings of purpose and progress which is often times all you need to give you that extra boost that you can get through this.
— Start Doing Yoga
Just like meditation, you've heard this mental health tip a million times by now. I mention it regularly in our Anxiety Gone articles because – again, just like meditation, it works!
You do not have to do some intense hot yoga class, nor do you have to pay to go to a fancy studio. Any type of yoga program will work for you but I will tell you that some are better for mental health than others. Either way, whether you're picking one of the best types of yoga for anxiety or typing something – anything into Youtube, yoga does something to you that simply can't be explained. It changes the way you react to situations; the way you breathe; the way you calm yourself; your self-awareness; your self-appreciation – and the way it tones your body is an extra bonus.
— Wake Up and Get Ready
One of the first things that goes when my anxiety is heightened is my desire to get up and get ready. If this sounds like you, I want you to make a conscious effort to wake up and begin your day with a shower and by brushing your teeth. Once you form this into a habit, add in doing your hair or putting on your makeup; choosing an outfit that makes you feel good, etc.
While this mental health tip might seem shallow on the outside, it actually works wonders for your mental health. When you look great, you feel great. Treat yourself to those feelings.
— Speak with Someone
The most important thing on this entire list of things to change to decrease anxiety is to speak with someone. I personally suggest speaking with a trained professional because they have the experience and techniques needed to help you get through this. Plus, online counseling platforms like Better Help let you try online therapy for free for 7 days. After that, they also offer specific payment plans that suit your financial situation – and some benefit packages even cover online therapy. So, this is always the first thing I recommend and I highly suggest taking advantage of it. You will never regret doing therapy, especially when you can do it in the comfort of your own home and for the fraction of the price while still receiving top notch treatment.
Alternatively, speaking with anyone you trust is a healthy change to make. Sometimes, I have to just sit my boyfriend down and tell him that I need to speak out loud to get the anxious thoughts out of my head.
Instantly, I feel a world of a difference. Some days, I need to talk to someone who knows what it is that I'm going through and some days, I need my online therapist. Either way, simply talking about the way you feel and what you're going through will help.
Why Is It Important to Make a Change?
As Norman Vincent Peale once said, "change your thoughts and you change your world". If something isn't working for you, such as experiencing panic attacks or anxiety, you must change something. Maybe it's a little thing or perhaps you need to complete the entire list of things to change to decrease anxiety; every step counts.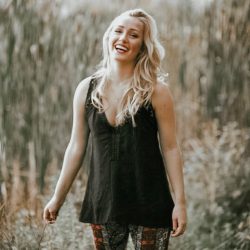 Latest posts by Chantal McCulligh
(see all)