We all know how hectic today's lifestyle can get. Juggling work, family, and social life can make it hard to catch a breath for ourselves. But it's crucial to find some 'me-time' in the midst of all this chaos.  Relaxing not only feels good but it also has great health benefits for both your body and mind, such as helping you recharge and bounce back from the everyday stress and anxiety to managing depression during darker times.  And guess what? No matter how busy you are, it's easy to learn how to relax using  simple relaxation techniques. So, if you're ready for some much-needed chilling, let's check out some effective relaxation techniques.
Easy Ways to Relax
When it comes to unwinding, the simpler, the better! After all, what good would a relaxation technique be if the process was complicated and stressed you out before even getting started?  The good news: you don't need to set aside a ton of hours from your busy schedule to practice relaxation techniques. Even if you have just five minutes to yourself, you can easily sneak in a simple relaxation technique. And if you have more time than that, all the better.
Here are some effortless ways to help you relax, relieve stress and ease anxiety.
1. Use Some Breathing Exercises
If you're looking for an easy way to unwind, breathing exercises are a great go-to strategy. You can practice them anywhere, anytime, and they can effectively calm your stressed-out mind and body. For example, using breathing techniques can ease tense muscles, relieve pain, detoxify the body, lower blood pressure, relieve stress and anxiety and boost your mood. And they only take a couple of minutes to do.
To get started, find a quiet and safe place to sit or lie down, such as your bed or the floor at home.
Place one hand on your belly and breathe in slowly to a count of four.
Then, exhale slowly to the same count of four.
Pay attention to how your belly rises and falls with each breath. Repeat this at least five times or for as long as you need to feel relaxed.
Feel free to make this breathing exercise your own too. There are different variations that involve holding your breath for 5 or 7 counts, or whatever length of time you choose. The primary goal, regardless of the duration of breath retention, is to decrease the pace of breathing.
Give it a try, and feel the tension melt away! Once you start to experience the benefits of deep breathing using this simple breathing exercise, feel free to expand your repertoire and try some others.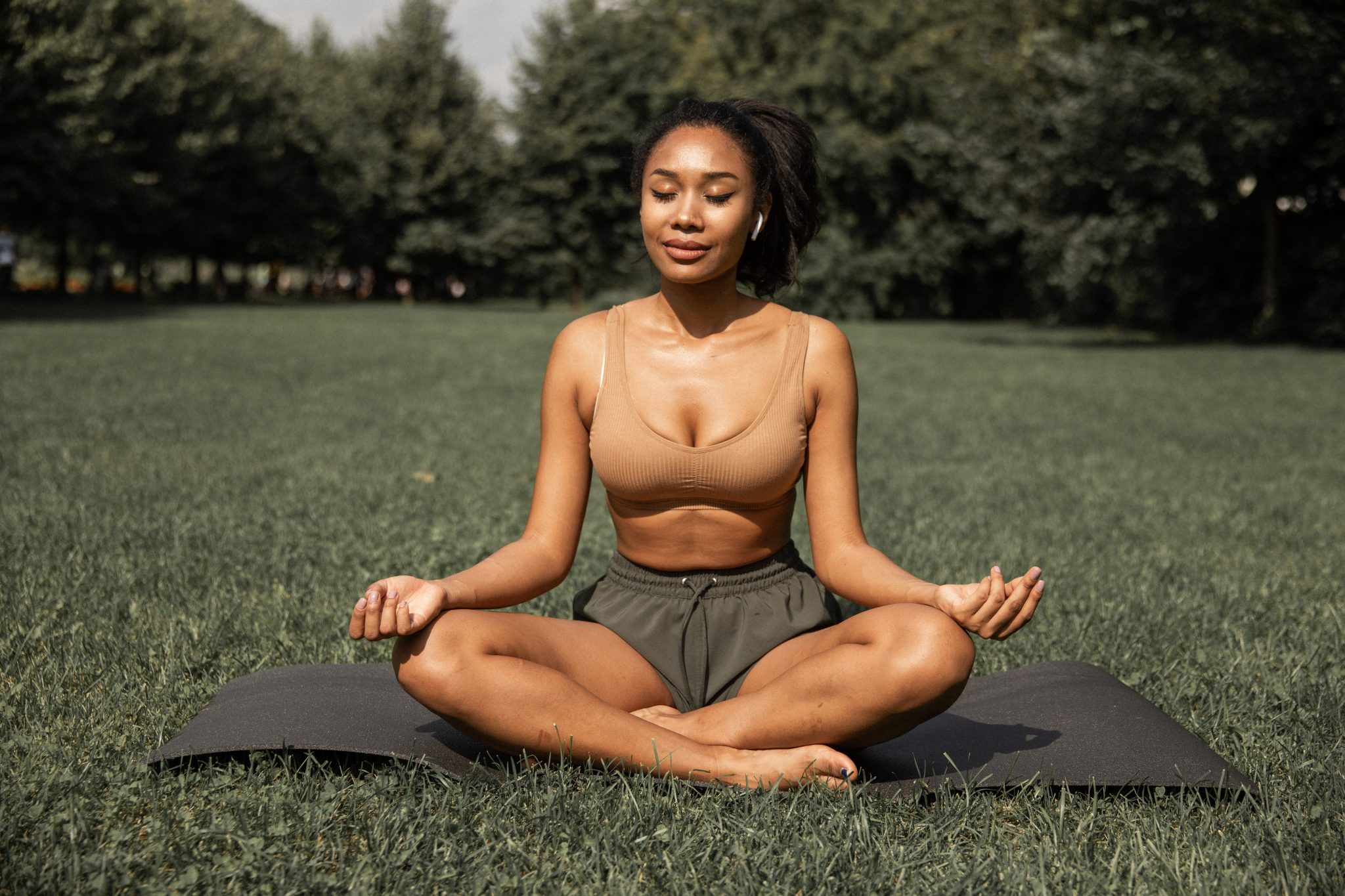 2. Spend Time in Nature
When life gets overwhelming, taking a break in nature, even for just a few minutes, can work wonders for your stress levels and have a powerful impact on your mental health. Various studies have shown that nature has a positive effect on your mood, and what you see, hear, and experience in nature can instantly improve your mental state. Spending time in nature has also been linked to a reduction in negative emotions, including symptoms of anxiety, depression, and psychosomatic illnesses such as tension headaches, insomnia, irritability, and indigestion. So the next time you're feeling overwhelmed, take a break and step outside to enjoy the natural world around you.
You can go on a hike or take a camping trip to reap the benefits of nature or you can go for a short walk or sit in a nearby park to help you relax and unwind. And if you're unable to access nature in person, looking at images of greenery or listening to nature sounds can also have a calming effect.
3. Meditate for Relaxation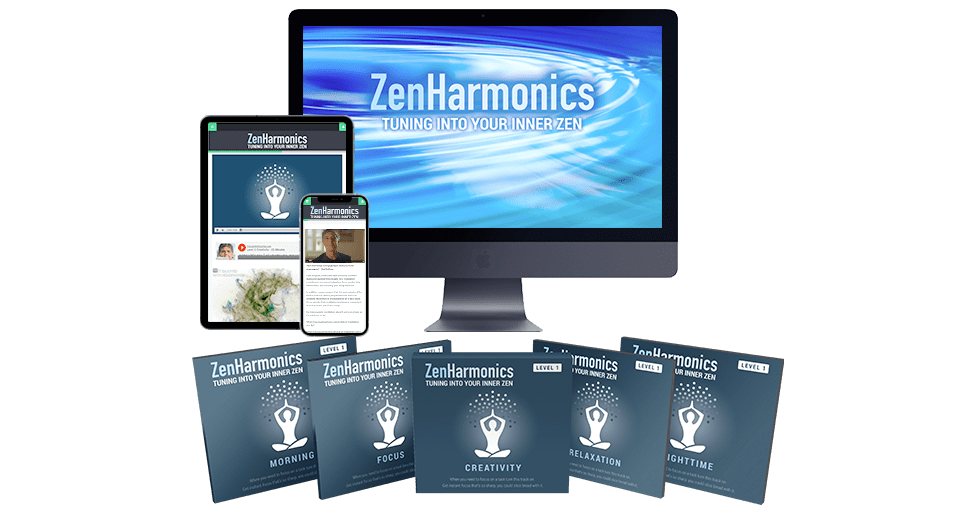 Meditation for relaxation typically involves using a focus object, such as your breath or a visualization, to cultivate calm and reduce stress levels. This technique has been proven to be an effective tool for managing and easing stress. Recent research shows that using meditation apps like Headspace for just 10 days can result in an 11% decrease in stress, and after 30 days, users reported a 32% decrease.
With regular practice, it becomes easier to train our bodies to achieve a state of balance between focus and relaxation. It's important to note that not all meditation techniques are meant for relaxation, so it's essential to choose a method that aligns with your goals.
Try this exercise to calm your body and mind using deep breathing, body scanning, and awareness:
Begin by finding a quiet space where you can get comfortable. Take five deep breaths, breathing in fresh air and exhaling any stress from your body and mind. On the last exhale, gently close your eyes.
Take a few moments to settle into your body, acknowledging your senses and the weight of your body on the chair or wherever you're sitting.
Scan your body from head to toe, observing any tension or discomfort, and then scan again to observe which parts of your body feel relaxed. Take about 20 seconds for each scan. Notice any thoughts that arise without judgment, and note your underlying mood.
Return your attention to your breath, breathing normally and observing the rising and falling sensation in your body. Focus on the quality of each breath and begin to silently count each inhale and exhale up to 10, then start again at 1. If thoughts come up or your mind wanders, guide your attention back to the breath.
Spend 20 to 30 seconds simply sitting, allowing your mind to be free, regardless of whether you feel calm and focused or have many thoughts.
Finally, bring your awareness back to anything physical you may be experiencing, such as your posture or the sounds around you. Slowly open your eyes.
Here are some of our top recommended meditations for relaxation and anxiety relief:
3. Release Physical Tension
When we're mentally stressed, our bodies often feel it too. We start to feel tense in certain areas such as our shoulders, neck, and jaw, which may even lead to physical problems like headaches, backaches, and stomach issues. These physical sensations can also make it difficult to relax. The good news: by releasing physical tension and practicing relaxation techniques, we can better manage our stress levels and learn how to relax.
Find a comfortable spot, such as your bed, a carpet, or a yoga mat, and complete a technique called: progressive muscle relaxation, a technique where you tense your muscles as you inhale and then relax them as you exhale. It's known to induce deep muscle relaxation, which counters the body's anxiety response, promoting the sensation of calm.  This helps to promote calmness, making it an excellent remedy for sleep issues. Besides, you can perform this technique in virtually any setting. The more you practice, the more effortless it becomes, and it may surprise you how effective it is.
To begin, find a quiet place where you won't be interrupted and where you can lie down on a comfortable, cushioned surface. Before starting, familiarize yourself with the muscle groups you'll be tensing and relaxing them. For example, you may choose to start at your head and then work down to your shoulder muscles, than your arms, than your chest, then your tummy and so on and so forth.
As you inhale, tense the first muscle group, such as your face muscles, for 4 to 10 seconds (tense them firmly, but not so much that you experience pain or cramps).
As you exhale, release the muscle group promptly and entirely (not gradually).
Take a break for 10 to 20 seconds, then proceed to the next muscle group, such as your shoulders. Observe the difference between the tensed and relaxed muscles.
After completing all muscle groups, count backward from 5 to 1 to focus your attention on the present.
Once you're comfortable with the exercises, you can use them to relax particular muscle groups without performing the entire routine.
4. Use a Spinning Anxiety Ring
While fidgeting may have been frowned upon during school, studies show that rhythmic and repetitive movements, also known as fidgeting, can have positive effects. Fidget toys and spinning rings are useful tools for particularly helpful for people with anxiety who tend to fidget or make small movements when they feel anxious, restless, impatient, or nervous.
Spinning rings, also known as fidget rings, also known as spinner rings, anxiety rings, worry rings, or meditation rings, provide an outlet for these movements, helping to calm a person's nerves, relieve stress, and serve as a distraction in overstimulating environments. These anxiety rings are made of a moving band that allows you to spin and restore a sense of calm, amongst many additional benefits.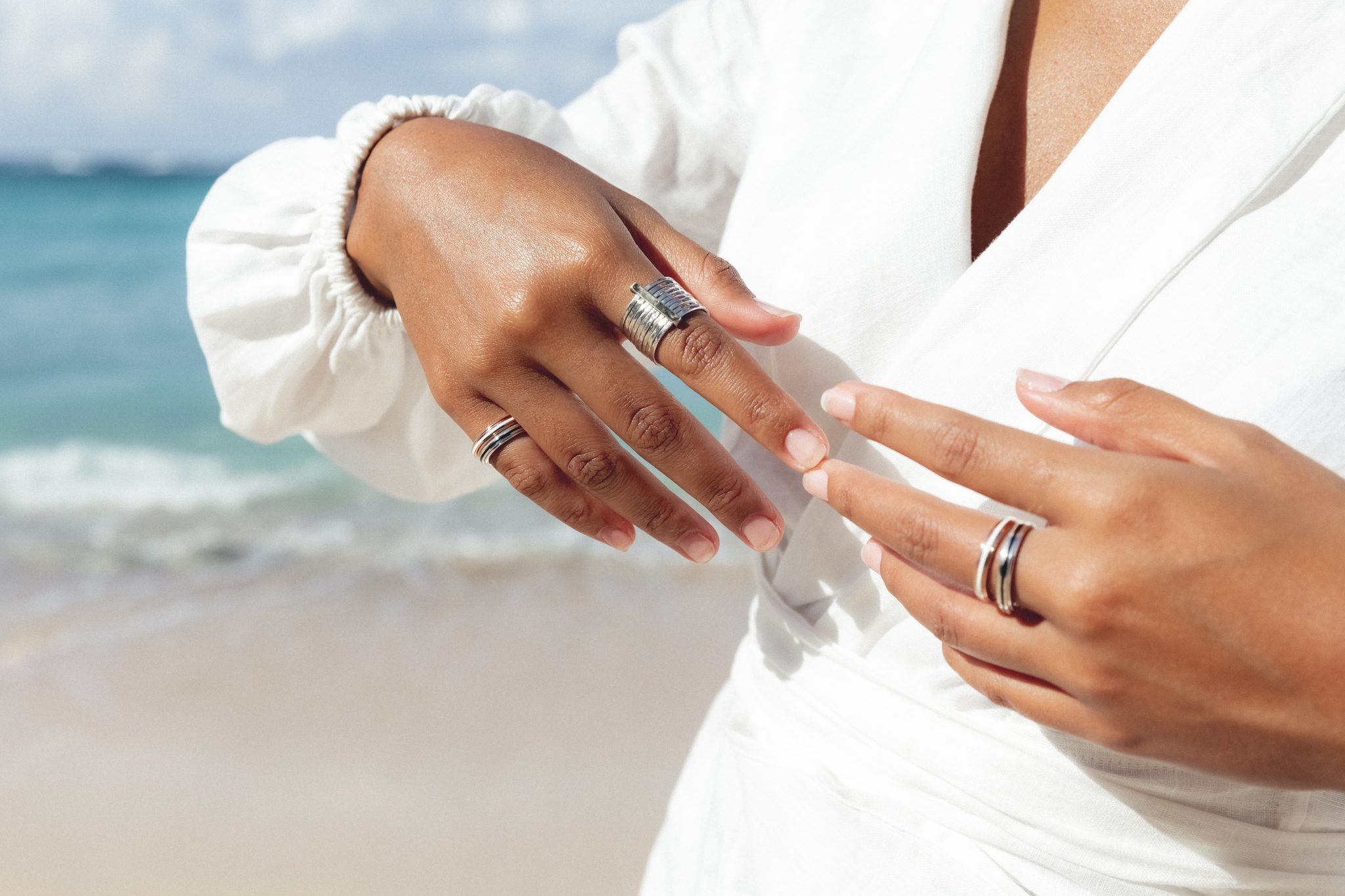 5. Write Down Your Thoughts
Writing can be an effective tool when learning how to relax, as it can help relieve stress and improve mental health. Taking a few moments to jot down your thoughts and emotions can help you gain clarity and perspective, while also getting all of those anxious, negative thoughts out of your mind. It can also help you identify sources of stress and work through challenging emotions, so you can finally experience a sense of relief and relaxation. Whether you use a notebook or a notes app, taking time to write down your thoughts can be a valuable addition to your stress management toolkit.
6. Visualize Your Calm
One way to relax and reduce stress is to find your happy place. This involves sitting in a quiet and safe space and visualizing a place in the world where you feel calm. It can be a real place you've been to before, such as beach or a mountain top, or something made up of fairies and dragons; gemstones and angels. The key is to imagine all the sensory details linked to that place, including the sights, sounds, smells, tastes, and feelings. The more you immerse yourself in this visualization technique, the more relaxed you can become. So take a few minutes for yourself and find your happy place to unwind from the stress of daily life.
This is also an excellent technique for anxiety, as you can escape and go to your happy place anytime you're feeling anxious and overwhelmed.
7. Remind Yourself of The Good Things
When times are tough and stress is taking over, making a list of all of the things you're grateful for can be all you need for a boost of positivity and stress relief. This is because when we are stressed, we often dwell on negative thoughts and experiences. Focusing on the positive aspects of life can help calm our minds. So something as simple as writing down three positive things that happened to you today, even if they seem insignificant, can help shift your focus to the good.
Whether it's enjoying a good cup of coffee or having a productive meeting at work, start acknowledging the positive aspects of your day can help reduce stress and promote relaxation. Not good at lists or need some help breaking free of the negativity clouding your mind? Use gratitude cards to find gratitude in each day and learn how to relax.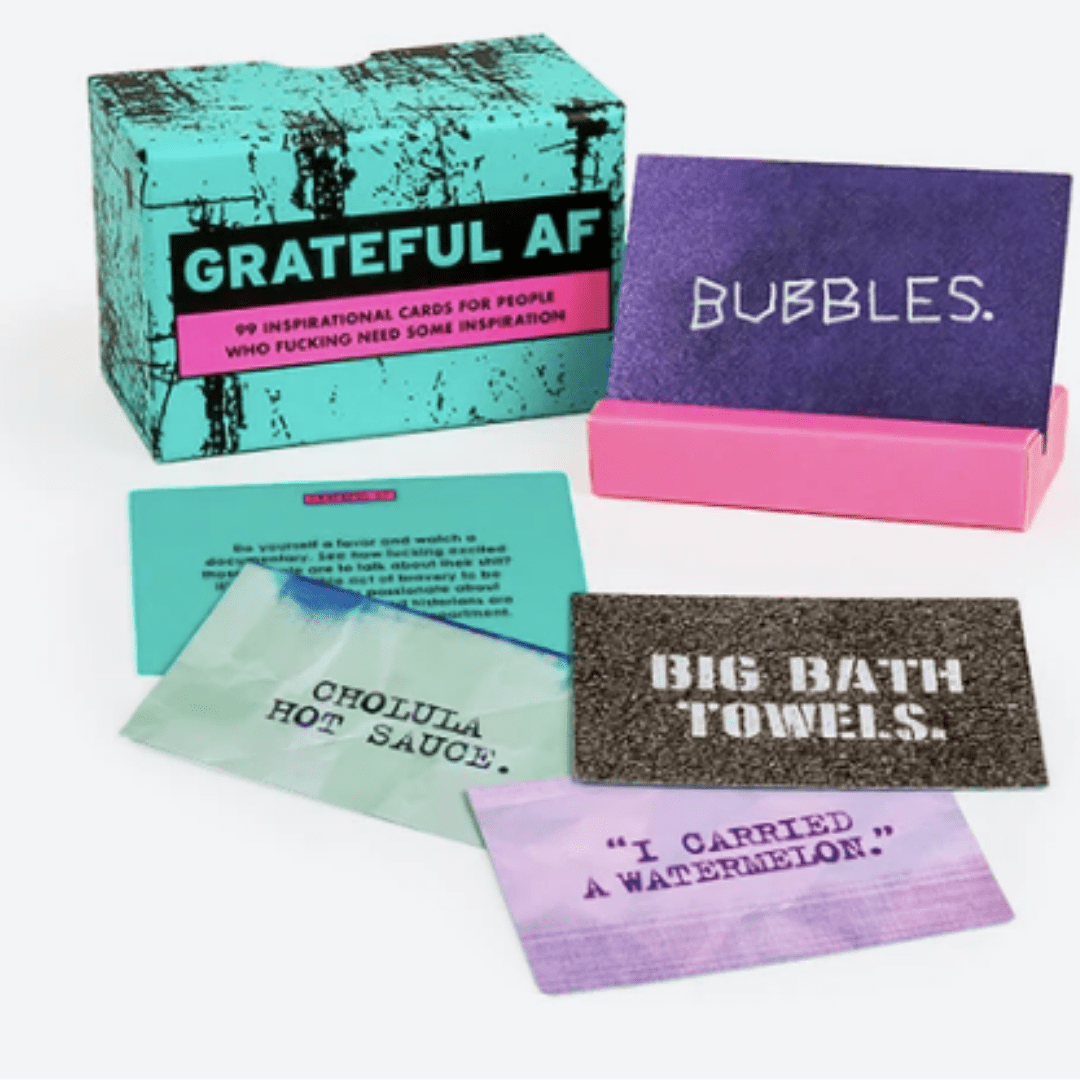 8. Practice Yoga, Tai Chi, and Qigong
Science is now starting to confirm what our ancestors knew 5000 years ago: coordinating breath and movement provides a mental focus that can calm a busy mind.
Yoga has also shown to be an effective tool in reducing stress and anxiety. Not only does it help improve flexibility and relieve physical tension, but the movements and posture can also help alleviate pain and release physical blockages, like muscle knots. The emotional and mental health aspect of yoga, brought on by breathing exercises, can also help release negative emotions and tension. So, grab a new yoga mat (and maybe some tissues) and get ready to start releasing.
Tai chi originated in ancient China as a form of self-defense, but today it is primarily used to promote good health. It is a gentle, low-impact form of exercise that is suitable for individuals of all ages. Now, there are various tai chi styles, but all of them share the same fundamental principles:
Slow, gentle movements: The movements are slow and fluid, and you continue to move throughout the exercise.
Precise postures: Specific postures are held as you move your body.
Mental focus: You are encouraged to let go of distracting thoughts and focus your attention during the practice.
Deep, relaxed breathing: You should maintain deep and relaxed breathing throughout the tai chi practice.
Taking a few minutes away from a stressful situation or breaking away from your usual routine and thoughts can provide enough space and distance to help you feel more peaceful. If you find yourself still struggling after learning how to relax or are experiencing a mental health crisis, it's important to reach out and seek professional help.


---
This blog post is sponsored by BetterHelp, but all opinions are my own. I may receive compensation from BetterHelp or other sources if you purchase products or services through the links provided on this page.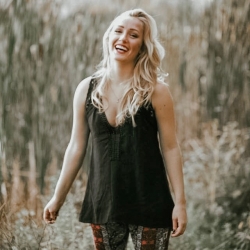 Latest posts by Chantal McCulligh
(see all)