In 2023, many people are actively searching for natural calming remedies and new products to ease their anxiety. The options are endless, from natural supplements to anxiety rings, stress balls, calming teas and so many more.  With the uncertainty and chaos of the world, it's no surprise that many seek relief in any way they can. Whether it's a CBD-infused lotion or a lavender-scented candle, the need for relaxation and tranquility has become more critical. People are taking control of their health and trying new products to help alleviate anxiety symptoms. Want to know about such remedies that might help you to get relief from anxiety? Keep reading till the end!
7 Products That Can Help Calm Anxiety
1. Chamomile tea
Many of us experience moments of anxiety, whether it be racing thoughts or uneasy feelings. While there are various anxiety coping methods, chamomile tea is a popular natural remedy. Not only does it have a delightful taste and fragrance, but it is also believed to have calming properties that can help alleviate feelings of stress and unease.
Drinking chamomile tea has been a practice for centuries for those seeking a natural way to find peace in their hectic lives. The next time you feel your nerves beginning to fray, try sipping on a warm cup of chamomile tea and see how it can positively impact your mood.
2. Lavender essential oil
Derived from the lavender plant, this essential oil has a beautiful sweet, and calming fragrance. Many believe oil interacts with the brain's limbic system, which is responsible for emotions. Applying or inhaling lavender essential oil is calming and relaxing, reducing stress and anxiety levels.
It is always important to consult with a healthcare professional before using any essential oils to ensure they are right for you. However, if you're looking for a natural way to reduce anxiety, the lavender essential oil may be worth a try.
 3. Omega-3 fatty acids
Anxiety can take a toll on anyone's daily life. It can be difficult to focus on important tasks when your mind is racing with worry and stress. These essential nutrients, found in foods such as fish, walnuts, and flaxseed, are known for their anti-inflammatory properties and can promote healthy brain function.
While Omega-3 fatty acids alone may not cure anxiety, they can be a helpful addition to other anxiety-reducing methods, such as therapy or meditation. So why not add some Omega-3-rich foods to your diet and see if it can make a difference in your overall well-being?
4. Magnesium supplements
Many people suffer from anxiety and struggle to find relief. Magnesium supplements are becoming an increasingly popular option for those seeking natural remedies.
While more research is needed to fully understand the link between magnesium and anxiety, some studies have suggested that magnesium can help regulate neurotransmitters and hormones associated with anxiety. Additionally, magnesium has been shown to have a calming effect on the nervous system, which can reduce symptoms of anxiety.
5. Ashwagandha root extract
Are you tired of feeling anxious and stressed out? Look no further than ashwagandha root extract. This natural product has gained popularity for its ability to promote calmness and reduce anxiety levels.
Derived from a plant commonly found in India, ashwagandha has been used for centuries in Ayurvedic medicine to address a variety of ailments. So why not try ashwagandha root extract and see if it can help alleviate your anxiety symptoms?
6. Passionflower extract
Feeling anxious can be overwhelming and affect your daily life in many ways. However, you don't have to suffer in silence. One potential solution is passionflower extract. This natural remedy has been used for centuries to promote relaxation and ease feelings of worry and stress.
Extracted from the beautiful passionflower plant, this product offers a unique blend of compounds that work together to promote a sense of calmness without causing drowsiness. Whether you struggle with social anxiety, generalized anxiety disorder, or panic attacks, passionflower extract is worth considering. As with any supplement, it's always best to consult your healthcare provider first to ensure it's safe and suitable.
7. Delta 8 wax
Delta 8 wax has been gaining attention as a potential product to relax This product is extracted from cannabis, but unlike its cousin Delta 9 THC, it is known to have much milder effects. Many users have reported feeling more relaxed after using delta 8 wax, making it a promising option for those who struggle with anxiety.
It is important to note that Delta 8 wax should only be purchased from reputable sources, as there are currently no regulations for its production and sale. As with any substance, it is also recommended to consult with a healthcare professional before trying Delta 8 wax, especially if you have any pre-existing medical conditions or are taking any medications.
What Are Some Techniques To Reduce Anxiety?
Anxiety is a familiar feeling that almost everyone has experienced at different times. No matter how strong or resilient one thinks they are, situations can arise, making it nearly impossible to shake off anxiety. However, there are several relaxation techniques that one can adopt to reduce and manage anxiety. Some of these include:
Mindfulness
Focusing on the present moment
Physical exercise
Calming activities like reading or listening to calming music
By incorporating these techniques into your daily routine, you can manage your anxiety and take control of your emotions. Remember, there's no one-size-fits-all approach to managing anxiety, so identify the best technique for you and start practicing it today.

Summing Up
In today's fast-paced world, taking care of one's mental and emotional health has become more critical. Many people are turning to various products to help reduce their anxiety levels. From essential oils and aromatherapy diffusers to weighted blankets and meditation apps, many choices are available. Some have found success with herbal teas and supplements, while others swear by essential oil. It's refreshing to see that people are taking their mental health seriously and trying to find ways to ease their anxiety. It's essential to find what works for you and to prioritize self-care.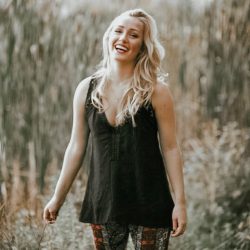 Latest posts by Chantal McCulligh
(see all)