There's certainly no shortage of tips for anxiety that you can implement into your life right now to improve your overall mental health. While most of these anxiety tips can be elaborated on, we've created this list for you to use as a quick reference in times of need.
48 of the Best Tips for Anxiety
Let's get started! Here are the best tips for anxiety that every anxiety sufferer should know:
Take long deep breaths
Eliminate unhealthy carbs (bad, sugary carbs = spiked anxiety for most people)
Use a Himalayan salt lamp to purify the air
Eat a cleaner diet (less pre-packaged, frozen, chemical-filled foods)
Place the best plants for anxiety around your home
Start journaling to let those anxious thoughts out
Sit in front of a sad lamp
Try forest bathing
Take L-Theanine natural supplements for quick relief
Go for a walk
Take sips of water to calm your anxiety symptoms
Smell some lavender
Get an Anxiety Gone box
Unfollow any social media accounts that make you feel worse
Use an essential oil diffuser in your home
Listen to binaural beats
Eliminate caffeine (coffee, cola, energy drinks)
Exercise daily (even if it's a lazy exercise)
Change your thoughts when they're negative
Make sure you're getting enough magnesium (take supplements)
Get a massage (touch alleviates anxiety)
Give yourself enough time to get a great sleep
Spray a calming aroma in the room
Practice self-care
Practice self-awareness (try this self-awareness activity)
Surround yourself with positive people
Practice gratitude
Limit the time you spend on social media
Go to therapy (try online therapy!)
Understand the Anxiety Lie
Avoid fast-food
Try an online anxiety program
Limit the amount of time you spend around toxic people
Read self-help books
Force yourself to laugh
Repeat a mantra for anxiety
Give yourself a "time out"
Do absolutely nothing and just be in the moment
Declutter your surroundings (mess causes increase anxiety)
Organize your life with a planner
Write in a gratitude planner
Count your blessings each day – big or small
Create a calming space where you can relax
These are the tips for anxiety that the entire Anxiety Gone team uses on a regular basis. So, give them a try and you may very well be surprised at how doing the simplest of things can make a grand impact on your overall mental health.
If you are in crisis, please consider speaking with a professional. Therapists offer you a new perspective and approach to tackling whatever it is you're dealing with. With online therapy, you can get the best therapist for you depending on your situation and can reach out to them whenever you need.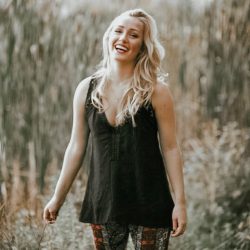 Latest posts by Chantal McCulligh
(see all)