Sometimes, happiness comes naturally and sometimes, it's a choice. If you've been struggling with finding this emotion more times than not, try these simple lifestyle changes for happiness. One choice can make a drastic improvement in your life.
10 Simple Changes that'll Add More Happiness Into Your Life
1. Unfollow Unhealthy Social Media Accounts
We've listed this change that'll improve your mental health as number one for a reason – social media can be overwhelmingly unhealthy. While there are tons of accounts that are encouraging and positive (@AnxietyGone), some are really harmful. So, if you follow someone who's posts make you feel bad about yourself, click that unfollow button!
2. Limit Your Time Spent on Social Media
You waste so much time scrolling through nonsense – we all do. So, limit your usage. iPhones now give you reports on how much time you spend on your phone and it even breaks down what you were doing that added up to your usage – an excellent way to see how much time you waste on social media.
3. End Toxic Relationships
Easier said than done? Absolutely but so is maintaining relationships with unhealthy people.  You can either struggle and be miserable trying to keep toxic relationships or struggle (and eventually be happy) trying to get over them – the choice is yours.
4. Try Something New
Get out, try something new and meet new people. They don't have to become your best friend but socializing will make you feel good.
5. Prioritize Your Social Circle
Prioritize your most prized relationships and focus on them instead of the negative ones. Have some friends who make you feel good? Hang out with them more. Prefer to be with your family? Make it a priority to spend more time with your loved ones. Prioritize the relationships that are most important to you.
6. Break Out of Your Shell
We've tried a handful of amazing programs that help you overcome shyness and social anxiety, and you don't even have to leave the comfort of your own home. Breaking out of your shell will give you a new sense of freedom that is certain to result in a boost of happiness.
7. Do More Random Acts of Kindness
Have you ever held the door open for a stranger and felt crappy about it? Of course not. You actually feel quite the opposite when you do some random act of kindness. The key is to complete these actions without expecting something in return. Hold open doors; smile as you pass by people on the street; give the homeless some spare change – doing good for others makes you feel good about who you are as a person.
8. Spend Less on Items and More on Moments
With the holiday season fast approaching, this lifestyle change for happiness couldn't have come at a better time. Studies have shown that spending money on items isn't what actually makes you happy, despite those new pairs of pants feeling fabulous. What really makes us happy is moments. So, stop forking over cash on items you'll forget in the back of the closet in a month.
9. Smile More
Even if you have to force it, smile more. This lifestyle change for happiness is scientifically proven, as smiling releases endorphins (happy hormones) which instantly enhances your mood. So, smile even when it's the last thing you want to do. Actually, smile even more when it's the last thing you want to do.
10. Breathe Properly
Yes, it's that simple. Proper breathing can move mountains – pardon the pun.
When you're anxious or stressed, your breaths become shallow. This also means that anytime you're cool, calm, and collected, your breaths are long and deep. So, learn how to breath properly by practicing different breathing techniques. As a rule of thumb, you should be breathing deep into your tummy.
If you're still struggling with finding happiness, speaking with a trained professional may be the best option for you. Online counselling is an amazing place to start the healing process – and it's a fraction of the cost of in-person sessions.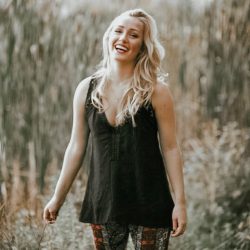 Latest posts by Chantal McCulligh
(see all)