Overcoming depression is no easy feat but it isn't impossible either. In fact, you can start making some changes within your life right now to start decreasing those horrible feelings that have been weighing you down all this time. While there's no denying that depression does go deeper than some "quick and simple fixes", you can start the healing process by making some slight changes. That's also not to mention that these tips for depression as the secret to maintaining a healthy mind moving forward.
49 Tips for Depression to Kick Start The Healing Process
Get a better sleep at night
Eat a cleaner diet (less pre-packaged, frozen, chemical-filled foods)
Take zinc supplements (a deficiency increases symptoms of depression)
Read self-help books
Use essential oils to increase focus and concentration
Eat less sugar and refined carbs
Start an online program for depression
Limit time spent with toxic people
Practice mindfulness
Set deadlines to avoid procrastination and feeling unproductive
Create to-do lists that are achieveable
Practice self-care and destress
Get an Anxiety Gone box
Eliminate things in your life that make you miserable
Avoid social media accounts that encourage you to self-harm
Do something you enjoy
Take a walk
Forest bathe to balance your mind and body
Write down your thoughts
Take long deep breaths
Practice the best yoga for depression
Get more sunlight (or use a light therapy lamp)
Count the things you're grateful for each day, no matter how big or small
Open the blinds to get more natural light in
Deal with your trauma
Limit your time on social media
Exercise daily
Listen to happy music
Rewire your brain with Binaural Beats
Take a long, hot bath
Challenge negative thinking
Add plants into your home
Don't drink too much alcohol
Have a routine and stick to it
Start therapy as soon as possible (give online therapy a try!)
Speak to yourself more gently
Unplug from technology
Watch a feel-good/funny movie
Give yourself a pep talk
Practice gratitude
Travel more (even if it's a weekend away)
Go to the spa
Declutter
Use these tips for depression to start living a healthy lifestyle that caters to optimal mental health. And remember, medication and therapy are great ways to help you combat mental illness.
If you are struggling, please consider speaking with a professional from Better Help. They're currently offering a 7 Day FREE trial for online therapy.
---
This blog post is sponsored by BetterHelp online therapy, but all opinions are my own. I may receive compensation from BetterHelp or other sources if you purchase products or services through the links provided on this page.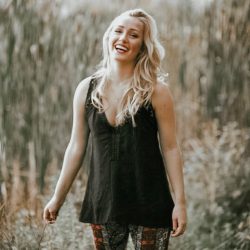 Latest posts by Chantal McCulligh
(see all)