Our teen years can feel like a rollercoaster where our bodies are changing, we're experiencing hormonal changes and our social circle is a priority. Since we tend to experience a lot of growth, change, and highs and lows, sometimes we don't notice the signs that we're struggling with our mental health. There are periods when our lows don't feel so temporary, and we're not sure what to do or if what we're experiencing is teen depression.
Depression for Teenagers
It might be hard to notice depression as a teen, let alone accept and understand it. Some common signs of depression in teenagers include emotional and behavioural changes such as feelings of sadness, emptiness, crying spells, a loss of interest in your usual activities, loss of energy, sleeping too much or too little and appetite changes. You might also experience unexplained body aches or headaches, and pay less attention to personal hygiene or your appearance.
Ways to Cope with Teen Depression
It is important to be aware of these symptoms of depression, so you can take a mental health screening and seek treatment if necessary, instead of leaving them unaddressed. It's also highly recommended that you reach out to a trusted adult or mental health professional during these periods of depression to share your concerns. However, we understand that this might feel scary for some people. You might feel like you can't trust anyone, or don't have any professional resources that you could reach out to talk about teen depression.
In times like these, there are a few ways you could help yourself feel better.
Get some exercise
You might have heard that getting some physical activity is important for mental health, especially depression, but perhaps you aren't sure why. Exercise can come in many forms. It can be hitting the gym, going on a walk every day, dancing, or anything you choose that gets your body moving and heart pumping.
Exercise has been consistently found to ease symptoms of depression and anxiety by releasing endorphins and other chemicals in your brain that help you improve your mood and sense of well-being.
This can also help you distract yourself for a short time and slowly help break negative thought cycles. Practicing movement regularly can also leave you feeling accomplished, boost your self-confidence, and encourage social interaction.
Eat healthy
Let's double down on the benefits of exercise by focusing on your nutrition as well. This might be challenging at first as a loss of interest, fatigue, and other symptoms you may be experiencing can leave you craving foods that are high in sugar.
You can start with small steps to be more aware of your appetite and cravings (if you have any), and try to make tiny adjustments every day. This could look like switching out sugary cereal with some oats, or eating a packet of chips over a few days as opposed to one pack a day if you're trying to reduce your junk food intake.
Seek help
A mental health professional can help you understand why you are depressed and help develop coping skills to deal with stressors. In addition to reaching out to a professional for guidance, you can also talk to a trusted adult or close friend. If that seems daunting, you can consider using a mental health app which makes support both accessible and convenient.
Wysa is one of the best online therapy apps available. It offers a variety of free self-help therapy tools based on evidence-based cognitive behavioural techniques. Its AI chatbot can provide you with an outlet to talk about your feelings and seek accountability for changes you might want to make. Users also have the option to consult emotional well-being professionals through a paid subscription. The app's guided meditations, breathing exercises and sleep stories have also been helpful for many users during difficult times. It can be helpful to practice mindfulness or guided meditation when you feel like you aren't able to break out of negative thought patterns or if you need to ground yourself.
Express yourself
There are some days when we don't feel like reaching out to anyone, even if we're feeling low. While it is okay to spend time alone, it's important that you don't bottle up your feelings.
One way in which you can healthily express yourself is through journaling. This method has been found to help cope with feelings of depression and anxiety by allowing you to prioritise your fears and concerns by writing them out. This also helps you visualise what you're thinking and feeling, and allows you to recognise possible triggers or patterns you might have.
Other creative ways to express yourself include painting, dancing, cooking or playing music. It helps to focus on the process and not the outcome as you allow yourself to feel creative and let your thoughts and feelings flow. This also helps you keep yourself engaged in healthy behaviours and avoid unhealthy substances.
While being a teenager can feel challenging at times, remember that your feelings are valid. It's important to recognise your emotions and behaviours, and share and seek help for your mental health concerns as early as possible to start treating teen depression.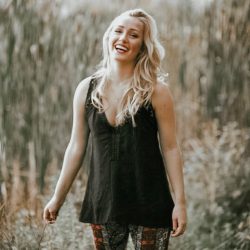 Latest posts by Chantal McCulligh
(see all)