In today's era of abundant information and increasing awareness about mental health, it's surprising how many mental health myths and misconceptions continue to thrive. These myths can perpetuate stigma, hinder individuals from seeking help when they need it, and create unnecessary fear and misunderstanding.   Fortunately, with the guidance of professionals like Chris Gustafson at TherapyJourney.co, we can embark on a journey to dispel these common misconceptions and foster a more informed and compassionate society.
The Concerns Related To Mental Health Myths
Mental health and myths are closely intertwined, often resulting in widespread misconceptions that hinder individuals from seeking help or offering support to those in need. Mental Health myths can perpetuate stigma, further isolating individuals who are already struggling with mental health challenges.
Dispelling these myths is not only essential for promoting understanding but also for creating a more compassionate and informed society. In this article, we will explore common misconceptions surrounding mental health and reveal the facts that everyone should know to foster empathy, support, and open dialogue around this crucial topic.
Myth #1: Therapy is Only for "Crazy" People
Fact: Therapy is for Everyone
One of the most prevalent myths about therapy is that it's only for people with severe mental health issues. Many believe that therapy is reserved for those who are deemed "crazy" or "mentally unstable." This misconception couldn't be further from the truth.
In reality, therapy is for everyone, regardless of their mental health status. It provides a safe, non-judgmental space to explore and address a wide range of issues. These can include everyday stress, relationship challenges, personal growth, and self-improvement. Therapy encompasses not only recovery but also flourishing. Seeking therapy is a proactive step toward understanding ourselves better and making positive changes in our lives.

Myth #2: Mental Health Problems Are a Sign of Weakness
Fact: Mental Health Knows No Boundaries
Another damaging mental health myth is that mental health issues are a sign of personal weakness. People may wrongly believe that those struggling with mental health challenges lack strength or resilience. This misconception not only perpetuates stigma but also discourages individuals from seeking help when they need it most.
In reality, mental health issues have nothing to do with personal strength or weakness. They are medical conditions that can affect anyone, regardless of age, gender, background, or personality. Just as we wouldn't blame someone for catching the flu, we shouldn't judge individuals dealing with mental health challenges. Seeking help for mental health concerns is an act of courage, resilience, and self-care.
Myth #3: You Can "Snap Out of It" or "Just Be Positive"
Fact: It's Not About Attitude
One of the most frustrating myths for those facing mental health challenges is the idea that they can simply "snap out of it" or "just be positive." Friends, family members, or even society may offer well-intentioned advice, thinking that a change in attitude is all that's needed to overcome mental health issues. Unfortunately, it's not that simple.
Mental health conditions are not a matter of willpower or attitude. Telling someone to "snap out of it" can be dismissive and unhelpful. Effective treatment often involves therapy, medication, or a combination of both, tailored to an individual's unique needs. Encouraging a positive mindset can be a valuable part of the healing process, but it's not a standalone solution.
Myth #4: Children Don't Experience Mental Health Issues
Fact: Mental Health Matters at Every Age
A common misconception is that children and adolescents are immune to mental health issues. Some believe that these issues only affect adults and that children are too young to experience conditions like depression or anxiety. This myth can be detrimental, as it may lead to delayed or inadequate support for young individuals who are struggling.
In reality, children and adolescents can indeed face mental health challenges. While these conditions may manifest differently than in adults, they are no less real. Conditions like attention-deficit/hyperactivity disorder (ADHD), anxiety disorders, and depression are prevalent among young people. Early intervention and support are crucial to help children and adolescents navigate these challenges and thrive.
Myth #5: Therapy Is Endless and Never Provides Results
Fact: Therapy is a Personal Journey
Another myth that may deter individuals from seeking therapy is the belief that it's an indefinite commitment and never yields results. Some may think that therapy is an endless process with no tangible benefits. This misconception can discourage people from taking the first step toward seeking help.
In reality, therapy is not a one-size-fits-all solution, nor is it a lifelong commitment for everyone. It's a personalized journey that can vary in duration and intensity based on individual goals and needs. Many people experience significant improvements in their mental health and overall quality of life through therapy. Whether it's short-term or more extended, therapy offers valuable insights and tools to enhance well-being.
Myth #6: Only "Crazy" or "Violent" People Have Schizophrenia
Fact: Schizophrenia is Complex
Schizophrenia is a complex mental health condition often misrepresented by myths and misconceptions. One of the most damaging misconceptions is the idea that only "crazy" or "violent" individuals have schizophrenia. This stereotype can lead to fear, stigma, and discrimination against those living with the condition.
Mental health conditions can often have complex origins. For instance, knowing spiritual roots of bipolar disorder is a topic that's gaining recognition in the mental health field. Understanding these diverse perspectives can enhance our understanding of these conditions."
In reality, schizophrenia is a multifaceted mental health disorder. While it can present symptoms like hallucinations and delusions, most individuals with schizophrenia are not violent. With appropriate treatment, which often includes medication and therapy, many people with schizophrenia can lead fulfilling and meaningful lives. It's crucial to dispel stereotypes and promote understanding of this condition.
Myth #7: Medication Is the Only Solution
Fact: Multiple Paths to Healing
A prevalent myth suggests that medication is the sole solution to mental health issues. Some may believe that therapy is secondary or even unnecessary when medication is prescribed. While medication can be a valuable part of mental health treatment, it's essential to recognize that it's not the only option.
Effective mental health treatment often involves a holistic approach. Therapy, lifestyle changes, self-help strategies, and medication can all play significant roles in managing mental health conditions. The right combination of treatments varies from person to person, and decisions should be made collaboratively between individuals and their mental health professionals.

In a world where mental health matters more than ever, dispelling these common myths is crucial. Understanding that mental health conditions are common, treatable, and not a sign of weakness is the first step toward fostering a more compassionate and informed society.
Thanks to professionals like Chris Gustafson at TherapyJourney.co, guidance and support are readily available for those who seek it, making the journey toward better mental health both accessible and empowering.   Let's continue to break down these misconceptions and ensure that no one faces their mental health challenges alone. By doing so, we can create a more inclusive, supportive, and understanding world for all.
---
This blog post contains affiliate links,  but all opinions are my own. I may receive compensation from BetterHelp or other sources if you purchase products or services through the links provided on this page.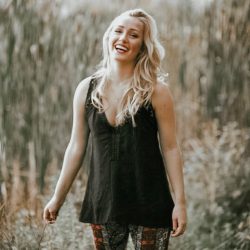 Latest posts by Chantal McCulligh
(see all)