The best gemstones for anxiety are all about healing the energy surrounding you. At first, you might think this natural healing remedy is silly. After all, gemstones are rocks, but don't be mistaken. The world is made up of several energies and it was even recently discovered that your body, despite seeming likely mostly physical, is actually 99.9999% made up of energy. So, healing the energy surrounding you and flowing throughout your mind, body and spirit is actually a great way to alleviate symptoms of anxiety.
What are the best gemstones for anxiety?
We have an elaborate post on the best gemstones for anxiety, where we discuss the healing properties of crystals for anxiety and all that good stuff. But as a little refresher, here's a list of some of the best:
Blue Lace Agate
Quartz
Turquoise
Amethyst
Aquamarine
Jet Stone
Lava Stone
Lepidolite
Shungite
Rhodonite
Hematite
What do Healing Crystals and Gemstones Do?
It'll be hard to get into this whole gemstone trend if you don't know what the benefits are that follow. To put it simply, crystal healing is the process of using the energy properties of the earth's stones to balance and correct your own energy systems.
Here is a list of the types of energies you can receive from using different types of healing stones:
Cleansing
Purifying
Vitality
Restfulness
Optimism
Introspection
Clear out negative energy
Stimulate energy
Remove energy blocks in your mind and body
Healing properties of gemstones and crystals for anxiety
An excellent way to determine what a healing crystal or gemstone will do for your mind, body and spirit is to take a look at the colour of gemstones. Often times, the hue of the gemstone can tell you exactly what it'll do for your healing desires. Here is a brief breakdown:
Light blue crystals offer healing of communication and senses
Stone for Anxiety: Lapis Lazuli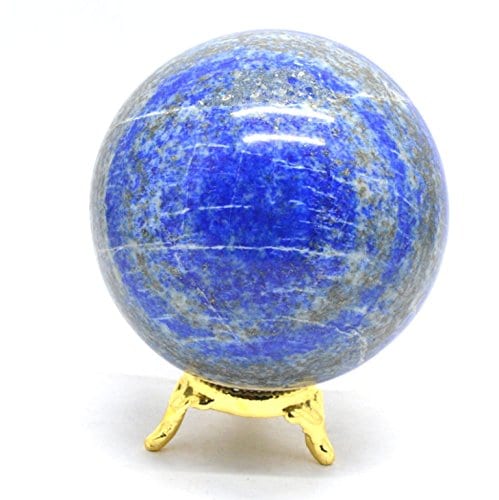 Orange crystals enhance energy, focus, creativity and artistic skill
Stone for Anxiety: Carnelian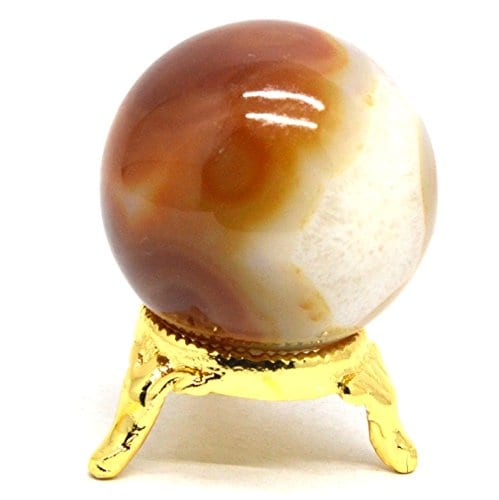 Green crystals focus on balancing emotions, relationships and personal growth
Stone for Anxiety: Aventurine
Yellow crystals improve functions of the nervous system
Stone for Anxiety: Calcite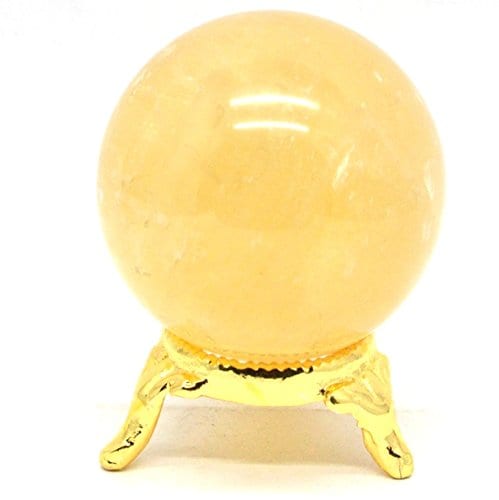 Pink crystals bring resolution, emotion and sensitivity
Stone for Anxiety: Rose Quartz

Red crystals activate practical skills and activating energies
Stone for Anxiety: Red Jasper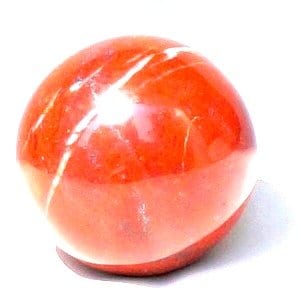 Purple crystals bring protection and purity to your mind, body and spirit
Stone for Anxiety: Amethyst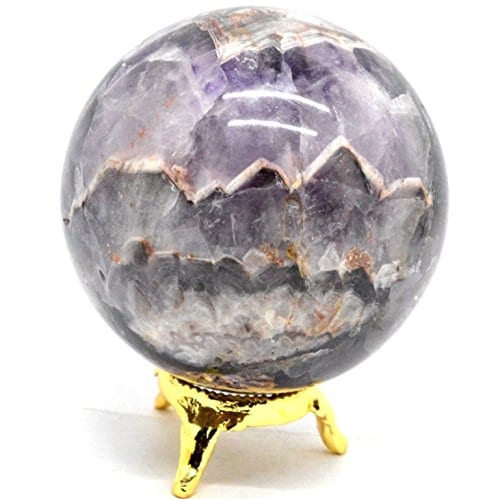 For more information, we recommend reading the The Colour Says It All: The Healing Properties of Gemstones.
Ways to use healing crystals and gemstones for anxiety
Gemstones can be used in all sorts of ways when it comes to healing. Often times, your desired healing determines how to use the best gemstones for anxiety.
For example, if you have difficulties sleeping at night (don't we all?),  placing some amethyst at your bedside may help.
Here are some of the most popular ways to use healing crystals for anxiety:
Hold a healing crystal during meditation
Create a crystal grid
Decorate a space to clear the energy (great for office and bedroom)
Place the crystals on your yoga mat
Wear the healing crystal
Place the crystal under your pillow
Carry the healing gemstone with you
Place the healing gemstone on your body
Use for Chakra balancing
Focus on the crystal for concentration meditation
How to use the best gemstones for anxiety healing?
Seems simple enough, right? It most certainly is, but like most things in life, we can always elaborate on how to use the best gemstones for anxiety as well.
Crystals and Meditation
Crystals are calming items that can be used during meditation in various ways. You can simply hold the crystal that suits your intention (why you're meditating – what you wish to receive from your practice). You can also use the crystal for concentration meditation or visual meditation where, instead of closing your eyes, you focus on the crystal.
Creating a Crystal Grid
A crystal grid is aligning your crystals for anxiety in a specific, symmetrical pattern to create the energy you want within a particular space. We will touch more on this in a later post, but this whole theory is based on Feng Shui principles.
Decor Gemstones
If crystal grids aren't your thing, simply place them around your home however you like. The energies will still manifest and create a calming space. The key is to choose crystals specific to your intention.
buy augmentin online galenapharm.com/pharmacy/augmentin.html no prescription

Crystals and Yoga
Similar to using crystals during meditation, you can use crystals during yoga. This involves you placing the healing crystals and/or gemstones on your yoga mat to help clear the air and create a tranquil area for you to practice.
Gemstones as Jewelry
One of our favourite ways to use the best gemstones for anxiety is through jewelry. We're huge fans of beaded bracelets and mala necklaces and have created a list of the best malas to wear for anxiety.
Use Crystals on your Body
Placing crystals on your body is a great way to soak in the energies of your stones. It has a lot to do with your 7 chakras, which again, we will get into later, and involves picking calming items based on your intention and placing it where you feel you're suffering. For example, if you're having difficulties clearing out negative thoughts, you might want to place a light blue gemstone on your throat (throat chakra).
If you don't believe in the healing power of gemstones for anxiety, this natural remedy may not be for you. However, as a sufferer, it can never hurt to try anything and everything.
Subscribe to our mental health self care subscription box and receive calming items every season.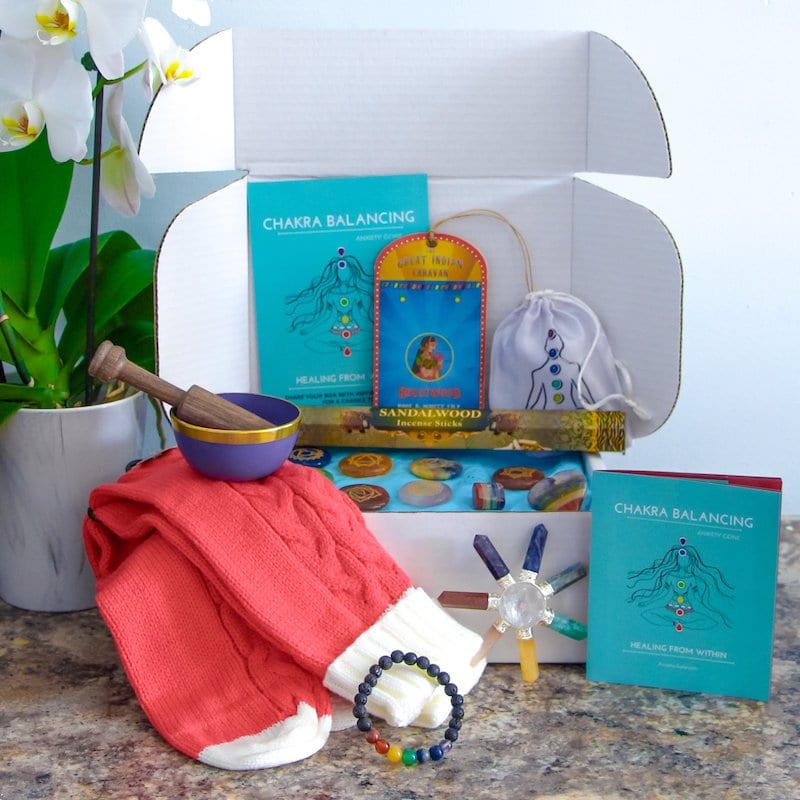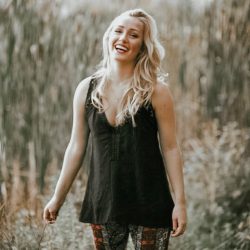 Latest posts by Chantal McCulligh
(see all)