We can tell you how powerful guided meditation for anxiety is for your mental health until our face is blue, but until you experience it for yourself, it'll never do justice. Meditation is wildly beneficial for anxiety, or for anyone looking to improve their mental health. I often discuss the benefits of meditation for anxiety here on Anxiety Gone because they really are that powerful. But meditation isn't easy, especially when you have anxiety. It takes time, practice, patience and consistency but the right meditation can be everything you need to start harnessing the benefits.
Best Guided Meditation for Anxiety Available on Youtube
Since anyone can prop up a camera and upload a video on Youtube, it can be difficult to find content that truly offers value. This is why I personally prefer to purchase my anxiety meditation tracks. However, I specifically like binaural meditations because they use a specific frequencies to trigger a calming response in the brain.
However, I do turn to Youtube once and a while for some guided meditation for anxiety. Here are some of our personal favourites to help you get started on your mindful journey towards healing.
Letting Go of Fear, Anxiety, Worry, Doubt

Positive Meditation Positive Energy Magazine offers tons of guided meditations for anxiety on Youtube. So, definitely check them out. We like this one specifically because it narrows in on the harmful thoughts and emotions that are associated with anxiety.
Guided Meditation For Detachment From Over-Thinking, Anxiety, OCD, Depression

As you can tell from the name, this is one guided meditation for anxiety that truly tackles various sides of this mental illness. Over-thinking and worry are huge components, but the depression and OCD that comes with anxiety should never be overlooked.
Let Go of Anxiety, Fear and Worry

Another excellent Youtube account for guided meditation for anxiety is Power Thoughts Meditation Club. We love this one specifically because it focuses on trading out the anxious feelings for positive energies, such as harmony, inner peace and emotional healing.
Guided Meditation for Sleep

Sleep isn't something that often comes naturally to anxiety sufferers. Our thoughts keep us up until all hours of the night. We've found guided meditation for sleep to be excellent for calming the mind, so that you can finally get some well-needed rest and relaxation. This guided meditation is actually one of our all-time favourites.
Mindfulness Meditation in 10 Minutes

This guided meditation for anxiety is incredible for times when you need a quick pick-me-up. You can use it when you find yourself in a stressful situation or to wake you up in the morning because it's quick, easy and effective.
Anxiety & Stress, Beginning Meditation, Guided Imagery Visualization

Here at Anxiety Gone, we love imagery meditation, where we use mandala art to meditate. This guided meditation can be used with or without imagery, and it's excellent for beginning meditation – super soothing!
Sleep Hypnosis for Sleep and Anxiety

Here's another excellent guided meditation video for anxiety and sleep. This one is a little different, as it's infused with hypnosis techniques to help you reduce your anxiety, so you can fall asleep.
Anxiety Relief

This guided meditation for anxiety can be used to ease stress, anxiety and worry. The music is exceptionally soothing and the instructions are really easy to follow. So, if you're a beginner, this is a nice video to check out.
Guided Meditation for Anxiety and Overthinking

This guided meditation video helps you heal from anxiety and obsessive thinking. We always like when meditation videos focus on the different elements of anxiety, such as overthinking.
Meditation for Acute Anxiety and Panic Attacks

Here is yet another easy guided meditation video that focuses on various types of anxiety. In fact, this video can be used for everything from daily stress to acute anxiety to panic attacks, and everything in between.
Mindfulness Meditation to Help Relieve Anxiety

This guided meditation is great because it clearly instructs you on what to do to capitalize on the benefits of meditation for anxiety. The music is quite relaxing and in a couple of minutes, you'll start to feel the stress and anxiety escape from your body.
If you're like us, we first laughed at the idea of meditating for anxiety relief. To us, it seemed like some weird voo-doo spell that simply wasn't realistic, but we decided to give it a shot anyway and after using guided meditation for anxiety only three times, we quickly became advocates. So, don't knock it until you try it. Meditation for anxiety is beyond anything that can every be explained in an article.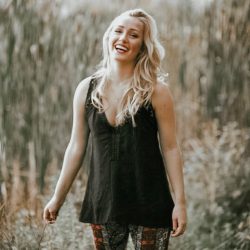 Latest posts by Chantal McCulligh
(see all)